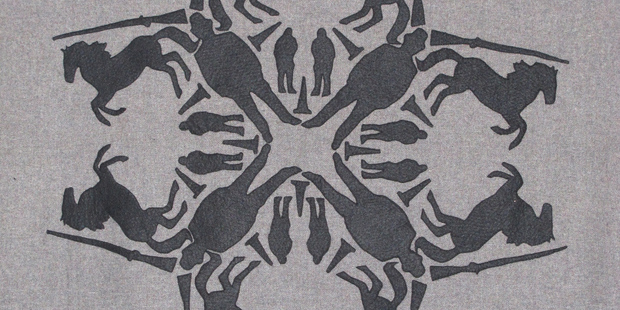 Art matters
The beauty of a panel discussion, says artist Ngatai Taepa, is that the audience can "hear, feel and experience a person for who they are".
For an hour you don't just have the sensationally slashed secondhand opinions of us journo hacks. "We know these people," says Taepa, a Massey University lecturer. "For me it's a privilege, for others it will be too." "These people" are Te Rangikaiwhiria Kemera and Tame Iti (Ngai Tuhoe) - two of the Urewera Four, convicted of firearms offences last year, now out on parole. Tomorrow at 3pm they will be at the Auckland Art Gallery to discuss Ka Kata Te Po (2011), the Triennial installation which refers to the 2007 police raids that led to the arrests.
The work was made by friends Taepa (Te Arawa), Saffronn Te Ratana (Ngai Tuhoe) and Hemi Macgregor (Ngati Rakaipaaka, Ngai Tuhoe), who will be attending the talk.
Ka Kata Te Po holds a sinister lifesize bull-skulled figure clad in a familiar black uniform within large green spiky strands. But, says Macgregor, "the discussions that occur in the gallery are as much a part of that art work as the installation itself." The artists encourage visitors to respectfully ask questions and converse, even if it's to say, "I don't agree with you": "We've had to bolster our knowledge and awareness so that we can talk to that."
Objectspace in Ponsonby is also exhibiting raids-related artwork: Te Mana Motuhake includes a blanket work responding to Iti's arrest stitched with silhouettes of horses and guns (representing police) by Hamilton-based artist Aimee Ratana. She and Saffronn are sisters; their great-nan, Te Arani Wi Kamaua Te Pou, was a wife of Tuhoe prophet Rua Kenana in 1916, when he was arrested and his son killed. The 2007 raids are seen as yet another chapter of ill treatment at the hands of the Crown.
What role does art play during the aftermath of a traumatic event? Ratana sees artwork making otherwise hidden or media-twisted histories accessible, particularly for younger generations. Her blankets were first shown in Auckland at Otara's Fresh Gallery and her Objectspace exhibition also contains more positive works of birds, including kereru as a symbol of bounty. (Many are hesitantly hopeful about the recently signed Tuhoe-Crown Treaty settlement.)
Taepa points out that art throughout the world is often a conduit for commentary, while Macgregor points out that such commentary is easily accessible and you don't have to know how to read, or even know how to speak a particular language, in order to respond.
For Saffronn Te Ratana, one of the most important aspects of the work was "to uplift the spirits of our people", not to lament Tuhoe as victims, but to celebrate them. Another case in point: earlier this month, for the signing of the Treaty settlement, Tame Iti was chauffeured to Parliament in a Rolls-Royce. That's celebratory performance art with a slyly humorous, Iti-trademark flourish.