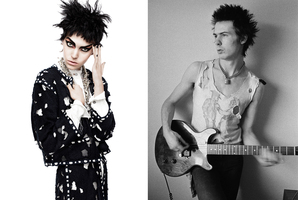 It is the one of the world's most venerable cultural institutions, its soaring halls home to unrivalled art collections dating from classical antiquity through the European masters to contemporary treasures.
But this week the distinctly establishment and undeniably elegant portals of New York's Metropolitan Museum of Art will embrace the forces of anarchy and subversion.
A new exhibition called Punk: Chaos to Couture traces the enduring influence of the ultimate rebellious movement on high fashion since it exploded - in all its spitting, swearing and snarling brashness - on to the scene in New York and London four decades ago.
It is the most eagerly awaited show of the year, expected to rival the popularity of the Alexander McQueen Savage Beauty exhibition at the same institution two years ago, when people queued for hours.
The new show, also overseen by Andrew Bolton, the dapper British curator of the Met's Costume Institute, begins with punk's transatlantic roots in Malcolm McLaren and Vivienne Westwood's Sex/Seditionaries boutique on the King's Road in Chelsea, and the CBGB & OMFUG nightclub in Manhattan's East Village.
The entrance features a 1970s parachute suit designed by Westwood and McLaren placed next to a 2006 Christian Dior parachute-inspired gown by John Galliano, to a video backdrop of frenetically pogoing punks.
The first two galleries are devoted to those pioneering haunts - CBGB, where the likes of Blondie, the Ramones and Patti Smith made their names, and the west London store that gave birth to the British breed.
Later galleries trace how high fashion's made-to-measure principles echo punk's "do it yourself" mantra. The DIY Hardware display focuses on contemporary designers' incorporation of studs, spikes, chains, padlocks, razor blades and safety pins into their work, drawing for inspiration on the Sex Pistols' Sid Vicious.
The black Versace dress held together by several oversized safety pins that made Elizabeth Hurley's name when she wore it to the premiere of Four Weddings and a Funeral in 1994 has pride of place there.
The DIY Destroy gallery illustrates how punk's rip-it-to-shreds look - typified by Sex Pistol John Lydon (Johnny Rotten) - have influenced the highest echelons of the fashion world.
Featured designers who have drawn on punk include Domenico Dolce and Stefano Gabbana, Miuccia Prada, John Galliano, Katherine Hamnett, Alexander McQueen, Zandra Rhodes and Gianni Versace.
The show painstakingly pieces together the minutiae of punk's heyday. There is a ripped T-shirt bearing the "Anarchy in the UK" slogan of the Sex Pistols, and still-shocking Westwood T-shirts, featuring two naked cowboys and an upside-down crucifix with a swastika.
Assistants are under careful instruction not to inadvertently remove safety pins from shredded exhibits.
Rooms are laid out in the style of French fashion houses' ateliers, but clad in styrofoam and covered in graffiti.
Bolton, 46, is one of New York's most influential fashion figures, drawing connections between pop culture, art and style. In true couture-speak, he said: "Since its origins, punk has had an incendiary influence on fashion. Although punk's democracy stands in opposition to fashion's autocracy, designers continue to appropriate punk's aesthetic vocabulary to capture its youthful rebelliousness and aggressive forcefulness."
The show has thrown up unusual sartorial headaches for guests at tomorrow's Costume Institute gala, a lucrative fundraiser and New York's party of the year, held under the withering gaze of Vogue editor Anna Wintour.
The unstated motto for the night, where high fashion and high society meet and a top table costs US$250,000 ($292,945), is "dress to impress". But guests this year must also balance that pressure with the punk theme.
"There's nothing punk about wearing a ball gown and buying a table for a quarter of a million," said Cameron Silver, the owner of Decades, a Los Angeles vintage-clothes store, who has handled "non-stop" pleas for help from style-challenged gala-goers.
"My advice to women of a certain age is to go down the beauty route and accessorise fetishly. Maybe don't wear all the diamonds this time, but I do hope that some octogenarian is not going to get her septum pierced for the night."
Subversion to subverted
Legs McNeil: "Getting these high-fashion designers, what does that have to do with punk? So rich people could go slumming? Come on, give me a break," McNeil, the writer and founder of Punk magazine, sounded off to the New York Times. He called the show and gala "a fantasy" for Anna Wintour and Vogue.
John Cooper Clarke: The British "punk poet" told the Sunday Telegraph that he saw no clash between the show and punk's anti-establishment provenance. "This show is a natural progression for punk fashion, which always had an eye on haute couture. Vivienne Westwood is a true craftsperson, the gold standard in the business. Fashion plunders history, tribes and ideas, and that's what this exhibition reflects."