Anna Subritzky hatches a material plan to keep chickens in the burbs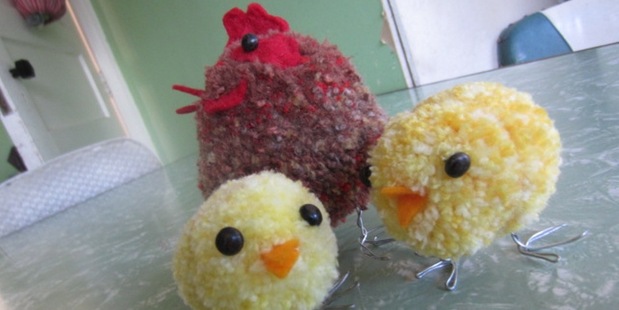 It's no coincidence that, in the Northern Hemisphere, Easter occurs in spring, inferring abundance, fertility and regeneration. Somewhere along the way, furry or feathered woodland animals became synonymous with Easter tradition and bunnies and chicks are now the order of the day. As it happens, I am fortunate to be blessed with my own feathered family in my suburban hinterland.
I've kept hens for several years now, deluding myself with a guise of self-sufficiency. It wasn't until a new neighbour moved in that I realised my poultry-keeping aspirations were lightweight. My neighbour is a poultry professional, a breeder no less, who enters shows and wins ribbons for the perfect buff or pencil, blue, red or spangled. His flock has quickly charmed the neighbourhood and people stop to point and coo at the gate.
The excitement grew when the chicks started hatching. There's one young mother who has become a regular on my side of the hedge, with her clutch in tow. They arrive at daybreak and camp on my porch awaiting favours, which of course I supply. They leave as the sun goes down with tummies full.
The neighbour has cornered me at the gate a couple of times, "They don't eat a thing when they get home," he wonders. "Oh, I think it's the children; they feed them," I lie shamelessly.
I was dismayed when it was announced mum and bubbas had been listed on Trade Me but, bird-lover that he is, my neighbour has recognised my infatuation and has done a U-turn on the auction.
So for now I'm part owner in my own little woodland affair, the perfect embodiment of Easter.

Step 1 - For each pompom, cut two cardboard rings (8.5cm diameter for mum, 5cm diameter for chicks). Take five or six lengths of yarn (you can use a mixture of colours if you like) and wrap them around the rings. Repeat process until the hole in the middle has shrunk enough so that you can't fit your finger through it. New lengths do not need joining; simply wrap them over the ends of the old ones. For a sphere shape, work the sides evenly. For a pear shape, work one side more than the other. When the desired coverage has been achieved, turn the pompom on its side and, with a sharp pair of scissors, cut through the layers to the cardboard rings. In the space between the rings, wrap a double piece of yarn and tie tightly.
Tear off rings and trim the pompom to neaten.
Step 2 - Using the templates to cut the felt, cut one beak piece for mum, two face and two comb pieces and sew these together as well as two wattle pieces sewn together. The bubs just need beaks. Position the features, pin them in place and then either stitch or glue to pompoms. Use buttons for eyes.
Step 3 - Fashion feet from sturdy wire, using cutters and pliers to assist. This requires some determination and patience. (I tried three times to get a credible result.) Cut a length of wire about 30cm long. Leave 6-7cm to become the leg, and bend three toes, doubling back to strengthen them as you go. Finish off back at the base of the leg and wrap around to neaten. Cut the top of leg on an angle so it is pointed, and insert into chook. Fiddle around with positioning the legs until you find some balance! Present to small, demanding children instead of chocolate.

Materials/tools
• Cardboard, pencil, scissors for template
• Wool scraps
• Felt
• Needle and thread/glue
• Pins
• Buttons for eyes
• Wire, cutters and pliers