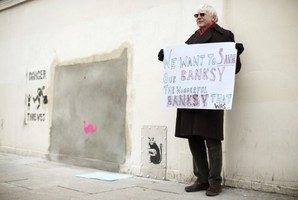 A Banksy mural at the centre of a controversial auction has been withdrawn from sale at the last minute, the council campaigning for its return to the UK says.
Slave Labour, which shows a young boy hunched over a sewing machine making Union Jack bunting, appeared on the wall in Wood Green, north London, last May, just before the Diamond Jubilee celebrations.
It disappeared from the side of the Poundland store last weekend and was due to be auctioned in the United States on Saturday evening, with Fine Art Auctions in Miami expecting it to reach between $US500,000 and $US700,000.
But Haringey Council said it had been told the sale was halted, with no explanation given from the auction house.
Haringey Council Leader Claire Kober said: "It's a true credit to the community that their campaigning appears to have helped to stop the sale of this artwork from going ahead.
"We will continue to explore all options to bring back Banksy to the community where it belongs."
- PA