Chelsea McGuffin loves being tossed around in the darkly seductive Cantina, says Dionne Christian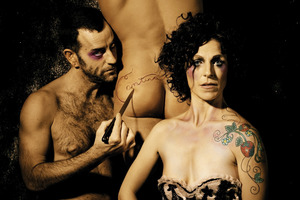 When raven-haired Chelsea McGuffin isn't being thrown around a Spiegeltent or balancing on champagne bottles, she likes to sit in the garden of her Brisbane home and drink tea.
Welcome to McGuffin's double life, as she juggles home with her work as one of the world's most in-demand contemporary circus artists. But she's had plenty of time to adjust to straddling two very different worlds. Now aged 37, she began dancing as a 5-year-old, trained as a classical ballerina and, at the age of 20, started circus training with the touring company Circus Monoxide.
Since then, McGuffin has worked with the Moscow State Circus School and created and performed in major touring shows that have taken her from Colombia to Canada, across Europe, then back home to Australia.
Last year, she spent five months in London for the Cultural Olympiad working in Cantina, a production which fuses dance, music, acrobatics, circus and optical illusions.
Cantina, which opens On March 6 at the Auckland Arts Festival, invites audiences to immerse themselves in a vaudeville-inspired show full of wild characters engaged in dark deeds.
It's performed on a small stage, so the audience is close enough to feel the breeze when McGuffin and her five fellow performers start their routines, often in high heels - sometimes little else - all swinging to the beat of an eclectic range of antiquated instruments.
McGuffin says apart from emphasising the show is "darkly seductive", descriptions are kept vague to maintain some mystery. Essentially, she says, it begins normally enough but quickly starts to haze the boundaries between fantasy and reality.
The show includes a dance routine called "toss the girl", where McGuffin gets thrown between two guys, David Carberry and Daniel Catlow. Are they fighting over her or using her as a pawn in a display of macho one-upmanship?
"It's really fun," she says. "It uses a combination of acrobatics with dance. It's about passion and uses the two men to explore bigger ideas about the push and pull of people and relationships. I like to make shows with a strong sense of narrative, but one that allows the audience to layer their own feelings on to what they're watching."
Carberry and McGuffin begin a "la danse apache", the highly charged routine borne out of Parisian street culture, where a man and a woman fight. Some say it's the re-enactment of a dispute between a pimp and prostitute; others see it as a lovers' quarrel. Whatever the interpretation, slaps and punches are thrown and the woman struggles to break free.
"There is quite a lot of violence in this show, but people see different things," she says. "It could be about bodies, and the limits we push them to, or the limits we push others to; it could be about women's empowerment, or it could be about whether we are comfortable in our own skins."
Created by McGuffin and the creative director of Australia's Strut & Fret production house, Scott Maidment, Cantina was designed specifically for the Spiegeltent, which adds to its shabby chic. The production became an "investigation" into the vaudeville era, questioning its importance to performers and audiences and the subtext of a number of the acts. As well as a lot of reading and research, they spent some time with Cletus Ball, a former Australian vaudevillian, now in his 80s, who had performed some of the exact dances they had heard about.
"We learned so much from Cletus," says McGuffin.
"He is getting on a bit now and sometimes his memory was a little hazy, so he'd just do the steps and the dances and it would all come back to him."
She says Cantina puts a modern twist on what have become classical routines. She enjoys her work for the potential it offers to extend circus as a theatrical form. She also likes the fact that things don't always go as planned. She once made eight attempts to walk across the top of glass wine bottles which were lined up on top of a pianola on the rickety wooden floor of the Spiegeltent.
"I talked to the audience to take my mind off it. I tried to be very in the moment and slow my heart-rate down at a time when it really wanted to race. I could feel the audience willing me to do it and really being engaged and I did do it.
"I like that connection; that in circus you have to touch people, you have to challenge yourself, you have to take risks and you have to put your trust in others. These things, I think, are getting harder to do in our world."
What: Cantina at Auckland Arts Festival
Where and when: Festival Club, Aotea Square, March 6-24
- TimeOut