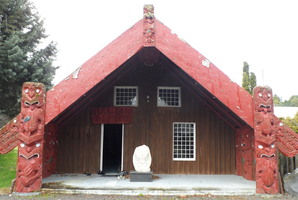 An old Maori meeting house and carvings worth about $6 million are being readied for auction.
It is the second time Te Tiki a Tamamutu wharenui and its 126-year-old carvings have been offered for sale in the past two years.
In 2011, a tender price of between $8 million and $12 million was accepted but the tender, believed to be from Te Arawa iwi, fell through.
The wharenui, carved by Rotorua's master carver Wero Taroi and his apprentice Tene Waitere, was removed from the Taupo Spa Hotel last year.
This week, the owners listed the rest of the Spa Hotel's land, business and buildings with Bayleys' agent Paul Dixon.
But the wharenui and its carvings will stay in storage until Webb's Auction House confirms an auction date.
Webb's managing director Neil Campbell said it would be the largest sale of Maori carvings in New Zealand. He believed it should be sold to Te Arawa iwi.
"We always hoped the iwi would acquire it and bring it to life," Campbell said.
The wharenui was carved in the 1860s for the Ngati Tuwharetoa chief Hohepa Tamamutu. In 1886, it was sold to a European and used as a "novelty tea house".