The city bursts into life with shows and exhibitions, many free of charge, writes Jo Bates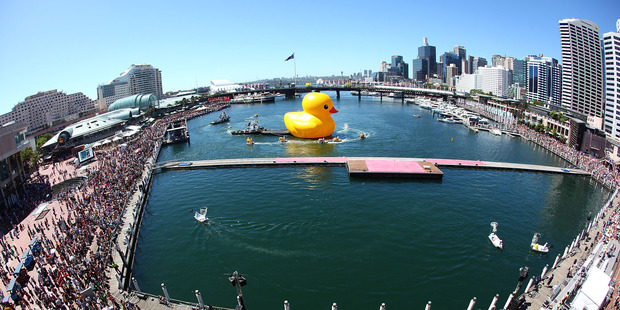 The Sydney Festival's new artistic director has been seduced by the happy, shiny city, which makes the selling easy. When asked why New Zealanders should visit, Dutchman Lieven Bertels says: "The city is the canvas. Celebrating Sydney in summer is just one of the good reasons. Sure, if you have an unlimited travel budget you could traverse the world and collect your own festival. What the Sydney Festival does, and what makes it unique, is creating the ability to see lots of works in a short amount of time and in unusual and unique spaces. Everyone should see a production at the Sydney Opera House and you can do that with Stanley Kubrick's A Space Odyssey [set to sound with the Sydney Symphony and Sydney Philharmonia Choirs], then build a weekend around it."
This year's programme, which runs until January 27 and includes 92 events, 18 of which are free. The festival is now in its 36th year and will showcase events throughout Sydney.
Bertels, who helped relaunch the Holland Festival as a leader in its field, suggests culture lovers pack in an intense few days of the arts. Start with a high-ticket headline act, then make the most of the more affordable and free events.
The festival opening has traditionally been an extravaganza, drawing huge crowds. Due to NSW State budget cuts, the scale was pared back, but the opening still delivered humour, whimsy and a party. "People really expect a party from us," explains Bertels.
Darling Harbour became a giant sudsy bubble bath for artist Florentijn Hofman's giant Rubber Duck; accompanied by floating dance and music.
Here, Bertels shares his personal hot-ticket international picks.
Semele Walk: What was supposed to be a one-off season in Germany has become an exclusive for Sydney. After "crawling on our knees", Bertels and his team convinced Vivienne Westwood to turn her talents to what he says has "Sydney written all over it: sophisticated and fun at the same time, with a unique mix of fine music and great fashion design. It shows what a festival can do best: turn a heritage building like the Sydney Town Hall into an amazing performing arts venue with a 36m-long catwalk where the audience sits alongside and the orchestra mingles with them."
Rian: Bertels reckons even die-hard misanthropes will be swept up in the joyful warmth of this upbeat collection of song and dance from Irish dance group Fabulous Beast. "Festival shows can be great for many reasons: they surprise you, they get you to think about something, they make you laugh or cry, or they simply seem to have happiness on tap." With its West-African twist, Rian is in the latter category, says Bertels.
Urban, Circolombia: "High voltage and spectacular, I saw the sexy Latino circus show Urban from Circolombia when it opened in London and was hooked on the unique combination of authentic street cred and high-energy circus acrobatics." (Also appearing at the Auckland Festival in March.)
Paradiso at Sydney Town Hall: Bertels pulled a few strings back in Holland to borrow the name of Amsterdam's famous Paradiso club for the Sydney festival's new pop-up bar and music venue at the city's Town Hall. "Some of my favourite new music acts will perform in the evening including Rokia Traor, Nicolas Jaar and Osaka Monaurail, the Japanese answer to James Brown."
Eraritjaritjaka: Heiner Goebbel's multi-award winning production features French actor Andre Wilms and Amsterdam's acclaimed Mondriaan String Quartet in a spellbinding blend of music, video and special effects: "A feast for the senses that's not restricted by the confines of the physical theatre space."
Symphony: "Symphony is based on Beethoven's 7th symphony and is played as a solo on a bass guitar. It is highly physical theatre directed by Patrick Nolan and he's created a wonderful event that deals with puberty and growing up."