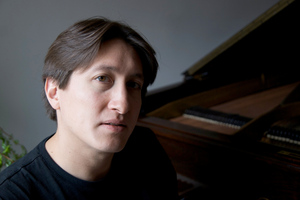 The New Zealand Symphony Orchestra came to town with an early Christmas present: a Gershwin cocktail that capitalised on Freddy Kempf's recent CD of the composer's music for piano and orchestra.
The English pianist launched celebrations with the Second Rhapsody. This piece might not have the stirring tunes of Rhapsody in Blue, but there was much deliciousness in its detail. The orchestra, under Matthew Coorey, swayed through infectious Cuban rhythms and savoured the quirky twists of Gershwin's scoring.
Kempf had the sleekness of a cheetah on the keys; Ravelian cascades were dispatched with feline grace and he subtly caressed the work's moody chromaticisms into sinuous life.
He was more freewheeling in the I Got Rhythm Variations, its brilliant reworkings giving us a glimpse of the Gershwin who was the life of any party that could provide a piano.
Rhapsody in Blue closed the concert, instigated with the familiar bluesy wail of clarinet, but Kempf was determined to keep it jaunty, spurring the orchestra along beside him.
The NZSO had already dazzled us in Gershwin's An American in Paris, as vivid a set of musical postcards as one could wish for.
Gershwin, however, did not have a total monopoly on the programme.
Leonard Bernstein's jazz-fuelled Prelude Fugue and Riffs was an exhilarating workout for clarinettist Patrick Barry and pianist Donald Nicolson against the occasionally over-dominating brass, reeds and percussion. Here, one realised, was the missing link between Stravinsky and West Side Story.
The most scrumptious offering of the evening was a mere canape in the scheme of things - Tahiti Trot, Shostakovich's barbed saunter through Tea for Two. You can't escape the irony of a staunch symphonist penning what now seems like a piece of kitsch lounge music, decades before the great Esquivel. Coorey, opting for pert and perky pacing, made the paradox perfectly apparent.

Review
What: New Zealand Symphony Orchestra
Where: Auckland Town Hall
When: Saturday