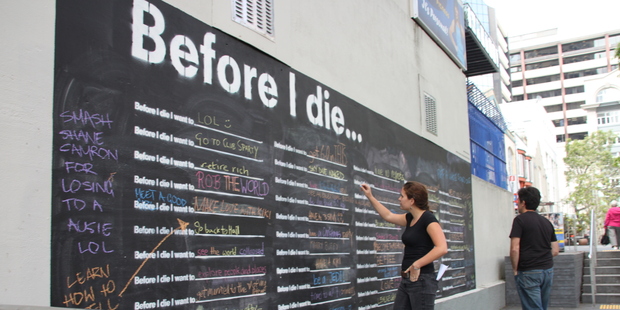 A street art project that has popped up in Central Auckland is inviting people to share their bucket list with the public.
"Before I die" is an interacitve urban art project that was born in New Orleans last year and has since spread as far as Kazakhstan, Madrid and the Netherlands.
Set up in St Patrick's Square by local architects Juan Molina and Sophie Isler, whose office looks down on the square, the chalkboard asks the public to share things they want to do before they die.
At 11am the board is already full with gems like "Before I die I want to make love to Kiki," "Be a Jedi" and "Stop cheating on the missus".
The board is cleared before midday each day so people lunching in the square can start afresh.
Isler says despite fears the project would be used for profanity, the response had been overwhelmingly positive.
The idea for the project came about after New Orleans artist and urban planner Candy Chang lost her father.
Chang painted the wall of an abandoned house in her neighbourhood with chalkboard paint and stencilled it with the sentence "Before I die I want to...." in a grid format where passers-by could share their hopes and dreams in a public space.
People around the world got wind of the project and Isler says "it's spread like wildfire."
"People started asking if they could start their own," she says.
Through a website set up by Ms Chang, anyone could order the stencils and set up a board.
Isler and Molina say they have had support from the council, the owner of the building and Resene, who supplied the paint.
"Before I die" will be up until December 22.
A book about the project will be published by St Martin's Press for release in 2012.
- www.nzherald.co.nz