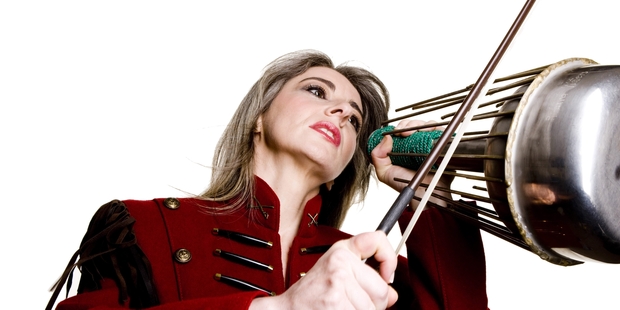 Auckland Philharmonia Orchestra concluded its most successful Splendour season to date with The American Experience, a zesty programme that drew the crowds.
John Adams' The Chairman Dances was a zinger of a launch.
The orchestra revelled in the sleek colours; Eckehard Stier paced the shimmering anticipation until Adams relaxed the tempo for the languor of nostalgia.
Dame Evelyn Glennie was star soloist in Christopher Rouse's Der Gerettete Alberich. After the concert, in a generous Q&A session, the Scottish percussionist explained how Rouse had written the work for her, inspired by what might have happened to Wagner's malign dwarf, Alberich.
On stage, barefoot, moving from station to station with the litheness of a dancer, Glennie caught the character to his last leer and chuckle.
There was much humour, right from the start, when Wagner's lush Redemption theme was met by the querulous whirr of Glennie's guiros; often the humour is reminiscent of Carl Stalling's zany cartoon soundtracks.
Glennie instigated a real bond with the orchestra, especially when pizzicato strings criss-crossed with a virtuoso drum turn. Later, an exotic interlude on steel drum brought forth a quartet of Valhalla horns.
A marimba-led slow section offered the purest poetry and here, as elsewhere, one marvelled at Glennie's scrupulous realisation of Rouse's ultra-detailed directions.
The real crowd-pleaser came when Alberich seemed to have crossed the Atlantic, with Glennie, on drum kit, driving the APO in some of the funkiest big-band riffing that has ever lit up the Town Hall.
After interval Copland's Appalachian Spring set off with just the right sweet clarity and, more than ever, its ebullient moments made me think of a New World Sacre.
Robert Russell Bennett's Symphonic Picture of Porgy and Bess is more a pumped-up Broadway overture than symphony. Nevertheless, Bennett's savvy scoring conquered any snobbish misgivings.
Stier conducted with first-night fervour and the orchestra followed, with welcome guests in the three crooning saxes of There's a Boat and Nigel Gavin's pluck and strum making I got plenty of nothing the banjo tune it is.