Open your eyes and take in the Auckland Festival of Photography.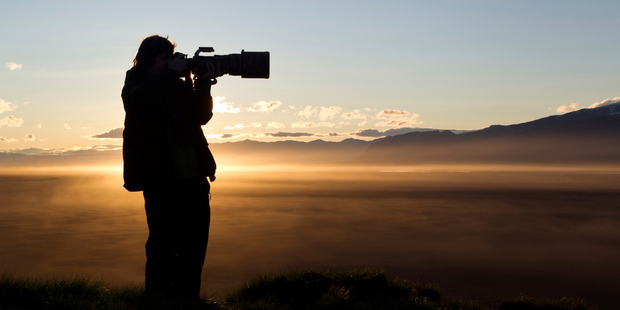 If a picture really does say a thousand words, then there's going to be an enormous amount of communication happening at the Auckland Festival of Photography over the next three weeks.
The art and science of photography will be examined in a huge array of events spanning the Auckland region. Viewing and taking photos, discussing their meaning and place in our culture and capturing the varied faces of the city on film are on offer in this moveable photogenic feast that opened this week and runs until June 24.
The festival, which features professional and amateur photographers, is now in its ninth year. The organisers admit they sometimes doubted their capacity to stage the free event this year in the difficult economic times.
"Yet in spite of, and maybe because of the times, struggling photographers across New Zealand and the world have used their resourcefulness and imagination to continue to create," they announced on their website.
In fact, recognising that tough times often lead to great art, the Festival Trust has pulled together more than 400 local and international photographers in over 100 exhibitions for what is the country's largest photographic event.
"The festival is a wonderful way to open up the art of photography to the public and also celebrate the diverse cultural identities of Auckland," says festival spokesperson Elaine Smith.
"We are delighted to present a broad range of opportunities to view photography this year. There is so much to see across the entire Auckland region, from Matakana to Pukekohe, Waiheke to Piha.
"There are professionally curated exhibitions, open talks and community curated fringe shows, so it is a visual feast for everyone. And it's great that we can still deliver this festival to the people of Auckland absolutely free."
This year's event is divided into a number of categories, including:
TALKING CULTURE
A series of major exhibitions looking at the world through the camera lens. Exhibits include Bruce Connew's images from Fiji between the two most recent coups, Alex Webb's coverage of events along the 3220km US/Mexico border, during which he made several unsuccessful attempts to make the crossing with Mexican migrants, and Enrico Dagnino's 2009 documenting of the return to Libya of African migrants and refugees intercepted by Italian boats.
The Sunday Series at Auckland Art Gallery Auditorium: Talks, presentations and debates about photography. It starts today with South London born photographer Sam Harris' visual presentation covering his career as a music photographer in London, his move towards documentary photography and why he left it all behind to travel with the family to India and Australia and focus on personal diary work, eventually settling in the forest in the south west of Western Australia.
Behind the Lens: On Sunday June 10 New Zealand-based Getty Images sports photographers Phil Walter and Hannah Johnston share their experiences covering past Olympics and Paralympics as they gear up for London 2012.
On a lighter note FAM BAM! is a public event in which anyone can come into Papakura Art Gallery and have their family portrait taken for free by a professional local photographer.
FESTIVAL TUESDAY
Dubbed 'Gone in a Flash', this is the moveable feast of the festival - a whirlwind dash from exhibition to exhibition spread across venues in the Auckland CBD, Parnell, Ponsonby and Mt Eden. Free transport will run between various drop-off/pick-up points but organisers are also encouraging people to get on their bikes, or skateboards, roller blades, scooters or feet, to get around the circuit between 6pm and 9pm on June 5.
Exhibitions include portraits by Solomon Mortimer, Sophie Merkens' images of artists, John B Turner's Postcards from China and the latest from last year's Nikon Auckland Photo Day competition winner Mareea Vegas (aka Mareea Paterson).
FRINGE
A huge number of exhibitions at venues from Papakura and Franklin in the south through central Auckland to Helensville and Matakana in the north. As with the venues, the themes are too many to mention here but include images of protest, racial interaction, the Occupy Movement, history of people, places and work, sexuality, musical sub-cultures and views of the wider world. The Fringe programme is available at here.
AUCKLAND PHOTO DAY
One of the regular highlights of the festival is Nikon Auckland Photo Day. This snap-happy event is the biggest community photo shoot in Auckland and takes place over 24 hours, midnight to midnight, on Saturday, June 9. Everyone with access to a camera, individuals, groups, adults and children, are invited to take part in this public competition which aims to encourage Aucklanders to capture an image which reflects the city and region through their eyes.
"Nikon Auckland Photo Day reflects the diverse stories of the city through the camera lenses of those who live, work and play here," says festival spokesperson Elaine Smith.
Auckland Photo Day is deliberately conversational, it allows anyone, anywhere in Auckland to share their perspectives of the region. The organisers are looking for the fascination in the everyday, what is surprisingly different and what is comfortingly familiar. The event aims to celebrate the many individual pockets of culture and identity in the city. And while it is a fun event, it also documents the city right here and now.
OTHER EVENTS INCLUDE
* James K Lowe: Saturday June 9-Sunday June 24 at the Aotea Gallery. Lowe is the recipient of the Auckland Festival of Photography's Annual Fine Arts Commission 2012.
* Natural History Museum Wildlife Photographer of the Year: Auckland Museum, from June 22. The world's most prestigious wildlife photography exhibition arrives in Auckland.
* Asia Pacific Photoforum: Auckland is the host city for this year's meeting of seven directors of leading international photography festivals debating the relevance and future of such events.
Tips for capturing the perfect image:
* Identify people and places in your local area that might make good subjects, e.g. sports grounds, markets, church services, pool halls.
* After you've made a list of Auckland places that you could photograph, choose three that you think would be the best.
* Clip newspaper and magazine photographs and decide what gives them impact or appeal.
* Sort a group of photographs into piles depending on their use of contrast; how they fill the frame; show human emotion and capture an unexpected moment.
People can enter up to three photos which must be sent to the submissions page on the festival website.
Photographs are kept in an archive for future exhibition and to provide a visual resource for the region.
Organisers have come up with a new way for people to get involved by voting for their favourite photograph in the "People's Choice" category. It's a way for a photographer to be recognised for their creative efforts who may not have been chosen for the top 30 prizes or runner-up categories.
Overall first prize is a Nikon D7000 kit with 18-105 lens.
See more about the Photo Day and get the 2012 Festival programme here.