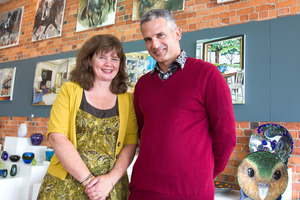 Mike and Linda Geers have overcome some bad luck to take their Devonport fine art gallery, Art By The Sea, to its 10-year anniversary under their ownership.
Three weeks after taking over the business in 2002, they had a leak from the upstairs restaurant which made the gallery smell of fish. In October 2010, a drunk driver smashed into their shop, closing the business for a period.
"It took us two months to recover, we missed the Christmas season," says Linda. "It made a huge dent in our business plan." Fortunately they had business interruption insurance.
More recently, in their worst challenge by far, the business and Mike were caught up in a case of mistaken identity. Mike was accused on Facebook of attacking a teenager at the Victoria Park skatepark.
The couple's phone number and business name were widely circulated around the internet and social networking sites and they received death threats. The police moved quickly to clear their name but it has taken its toll.
"We have been truly humbled by the support we have received from artists, clients, customers and even from people we do not know," says Mike, the father of teens.
"I think because of the length of time we have had the gallery and what we are trying to achieve here, common sense has prevailed.
"People realise we could not be involved in something of this nature."
The couple's business, which has a turnover of between $400,000 and $500,000, is their passion. They love bringing talented business-shy artists out of their shells, exploring their potential further.
The gallery shows work by a large collection of local artists including Brendan Adams, Kirsty Nixon, Rosemary Eagles, Christian Nicolson and Dean Raybould. Over the years the Geers have encouraged their artists to do larger works.
"We suggest publications for them and competitions to enter. A lot of artists tend to be quite reclusive, they work by themselves, they get caught up in a flurry of activity finishing the work, then when they are finished, they don't know what to do with it," says Mike.
As well as selling in the physical gallery, the couple sell a lot through the company website. The business sends clients a newsletter three or four times a year and exhibits every four weeks, often organising discussion evenings with the artist.
Mike, a former graphic artist who had his own company, Precision Graphics, with a business partner for 16 years, spends a lot of time looking at the work on his artist visits.
"They have put a lot of time into producing it, the least we can do is understand where they are coming from," he says.
The couple also put a lot of effort into the reception their customers, a mix of tourists and locals, receive when they come to the gallery.
"What we try to do here, which is different from other galleries, is we are inclusive and non-threatening," says Linda. "When they come through the doors, they leave the world out there, stop for a moment, take five or 10 minutes to interact with a piece of art.
"We want people to come here and feel at ease," she says.
Their budget or how they are dressed are not important. Art pieces range from $200 to $12,000.
The best part of the job is meeting the artists and clients, Mike says. "They have very interesting stories. "We fill out a diary here every day in the life of a gallery, it's a real eye-opener about society."