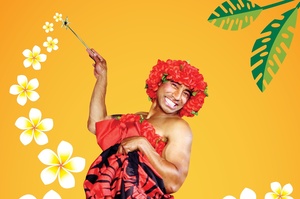 School holidays
What: We Built This City
Where & When: Aotea Square, April 18-21
What: The Wind in the Willows
Where & When: The PumpHouse, to April 22
What: Sinarella
Where & When: Mangere Arts Centre - Nga Tohu o Uenuku, April 10-14
What: The Hare and the Tortoise
Where & When: Bruce Mason Centre, April 9-14
Thousands of boxes to play in and lots of laughs in the theatre provide plenty of holiday fun.
If you go down to Aotea Square these school holidays, you could be in for a big surprise. No, the Occupy protesters haven't returned, nor have the city's rubbish collectors gone on strike - although the appearance in part of the square of about 9000 cardboard boxes might make it look otherwise.
The boxes are central to Polyglot Theatre's We Built This City, which is all about playing. Polyglot, from Australia, specialises in interactive and experiential theatre for kids up to 12.
Artistic director Sue Giles created the production after being inspired by watching her (now adult) children play with a cardboard box in their backyard.
"I thought, 'Why don't we just expand on that by taking thousands of boxes and getting lots of kids to come along and see what they create?'."
We Built This City has toured the world since its premiere in Melbourne in 2001, where the kids showed a penchant for building sprawling houses with swimming pools. In Singapore, skyscrapers were popular; in Washington DC, a group created a cavernous underground mall, while in Sydney they went for bridges and iconic buildings.
The children are guided by four performers who clown around, act like construction workers and keep things moving in cardboard city.
Giles says parents are encouraged to join in - "dads really get into it, they seem to love building towers" - and it's intriguing to see the way the interactions between adults and children differ from country to country.
In Taiwan, for example, Giles had to ask parents to stop photographing their kids because the constant posing for snaps was stopping the young ones from getting on and building.
At the end of the Auckland season, a final cityscape will be built using every box in the performance space. Then everyone joins in to trample the city down into a "gloriously chaotic heap of cardboard rubble".
Auckland children's theatre specialist Tim Bray might like to consider asking Polyglot if he can borrow some of the boxes; he may need them for the driving scenes in his production of The Wind in the Willows. Bray has temporarily scored a bright red Mini Countryman for show star Mr Toad (Tom Wardle) to drive during performances.
Fans of the Kenneth Grahame story will remember Mr Toad is not the best driver in town, so cardboard barriers might be useful. The play is performed largely outdoors and, because only one scene takes place indoors, there are no logistical issues to solve about getting the Mini on stage.
Bray says the outdoor setting adds to the ambience of the story, allows for characters such as Ratty, Mole and Badger to make surprising entrances, and appeals to kids who don't like to sit still for too long. He has previously staged the show in 2005 and 2008, and has since fielded continual questions about when he was going to reprise The Wind in the Willows.
"It's just so popular. We had a lot of technical stuff to work through with earlier seasons, so this time around we've been able to focus more on telling the story itself and developing the characters."
While Bray is sticking fairly faithfully to The Wind in the Willows story, Auckland Theatre Company's latest collaboration with the Pacific Institute of Performing Arts (PIPA) takes Cinderella into a whole new realm.
ATC and PIPA last year collaborated on the kids' show Pollyhood in Mumuland, based on Little Red Riding Hood. It proved so popular the season was extended for a week. This time they've reunited the production team with Shortland Street hunk Pua Magasiva, who stars as the magical fairy F.O.B. in Sinarella.
Like Pollyhood, it adds modern humour and a distinct Pasifika flavour to the traditional tale. In this retelling, Sinarella finds her Prince at the Siva Social, where he's celebrating his 21st birthday, and when she flees at midnight she leaves behind a glass jandal.
And just how does a modern Prince find his dream girl? He makes use of social media, of course, and posts her picture on "Fazeboog".
Music - think adapted pop favourites - plays a big part in the production and Tama Waipara and NZ Idol winner Rosita Vai are on board to provide the sounds. They're among a small contingent of professional performers working with the largely student cast on the production.
Meanwhile, Phineas Phrog Productions celebrates its 10th year this year with a characteristically bold and bright show when it gives a Kiwi twist to the Aesop's fable The Hare and the Tortoise.