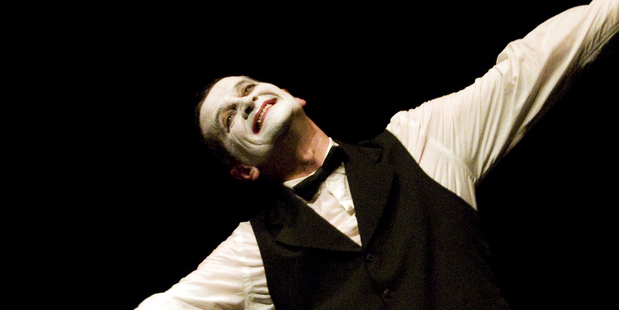 Miming is my happy place. Mime is the art of silence and of immediate communication between all cultures. With mime it is possible to make yourself understood everywhere in the world - human emotions are the same worldwide.
I grew up in western France, in Besancon, and my earliest memory is of seeing a performance by Marcel Marceau, the greatest mime artist (along with Charlie Chaplin). I understood straight away that I had the right disposition for miming and my work alongside Marcel Marceau confirmed this. He was the one who helped me, guided me and trained me.
At first I was his pupil, then he suggested that I be his assistant and accompany him on his world tours, and finally I became the administrator of his school.
When you are trained in the art of mime you are more likely to be an all-round actor, to be an expressive singer on stage, or to be a musician at ease before an audience - even politicians should try miming.
The most difficult thing about mime is trying not to replace the spoken word. Mime is there to complement speech, and to make the invisible visible - that is, to show what one cannot usually see.
When I am not miming, I am a chatterbox, as was Marcel Marceau - I love to talk but I don't much like my own voice.
It's a tense moment, the encounter with an audience that you have to charm and convince - it is very exciting being on a stage. It's like an addiction.
The white makeup we wear is primarily that from the tradition of Pierrot, the baker's son, who fell face down in the flour. But this also allows us to make our facial expressions more explicit and more expressive.
Mime is the art of promoting silence and gesture, but it does not forbid speech. Don't we find that the most moving moments in our existence cannot be articulated in a single word?
Laurent Decol performs his solo show Words of Silence at 4pm today at Tapac in Western Springs, with family activities in the foyer from 3pm. Alliance Francaise Auckland is running a series of French cuisine, wine and language workshops, July 21-24, as part of its French Food Week. It will host an open day at 9a Kirk St, Grey Lynn, next Saturday, 10.30am to 12.30pm.
- As told to Bronwyn Sell and translated by Aude Shortland of Alliance Francaise.