Three-month-long free festival of art with the theme 'If you were to live here' provides a showcase for more than 30 artists, artist collectives and architects from 15 countries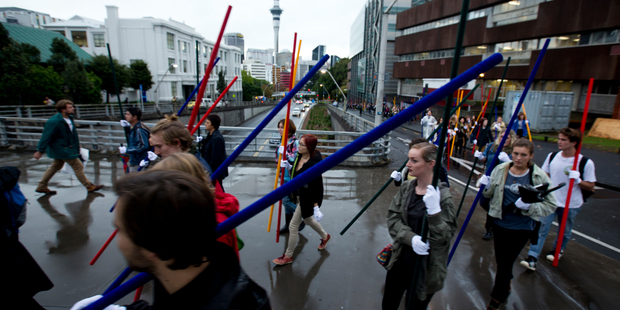 Cars slowed and heads turned as almost 200 brightly coloured mood sticks were carried through central Auckland by people with white gloves.
The hikoi of artist Peter Robinson's mood sticks marked the start of the fifth Auckland Triennial, a three-month art exhibition across nine free locations.
The different colours of the felt-covered sticks represent different moods and those who took part in the walk from the Auckland Art Gallery to the Auckland Museum chose which coloured stick to carry, depending on how they felt.
Curator Hou Hanru carried a yellow one - reflecting his joy that the project he worked on for more than two years has finally come to life.
This year's triennial is the biggest yet, with nine locations, including the museum for the first time, and more than 30 artists, artist collectives and architects from 15 countries contributing works.
The theme of the event is "If you were to live here" and has inspired contemporary artists to reimagine Auckland and the world through their works.
Mr Hanru, who is based in San Francisco, says the theme aims to provoke and promote discussion about how contemporary art influences urban transformation.
It also creates opportunities for interaction between artists, visitors and Aucklanders.
"It is arguable that the myth of New Zealand as a distant and innocent land of promise is no longer sustainable in the age of global circulation of capital, ideas and people.
"The formation of a new nation and a contemporary, multicultural populace results from the co-existence in New Zealand of Maori and colonising Europeans, and later new immigrants from Pacific Island neighbours, Southeast Asia and further afield," Mr Hanru said.
Included in the triennial is an "open laboratory" which plays the role of a think-tank. It's designed to become a platform for public debate.
Other projects include the rejuvenation of the Whau River in Avondale and an investigation of the Kiwi "quarter acre" dream.
Mr Hanru said it was exciting to be involved with the project and hoped it would bring people together.
The curator is sought after as an adviser, international juror and member of curatorial committees to art museums around the world, including the Guggenheim Museum and Tate Modern.
"Really it's about creating, not only to make a wonderful art exhibition, but to bring people together and to look at how we live together."
Mr Hanru said it was hard to pick just one location to go and see, but he was particularly excited about Robinson's mood sticks.
After arriving at the museum yesterday afternoon, they were laid out for the staff - from cleaners to executives - to place around the building where they will stay for the duration of the exhibition.
Some of the other artists taking part include:
• Multi-disciplinary artist Singaporean Ho Tzu Nyen, who works primarily in film, video, and performance and has recently developed environmental multimedia installations. His work has been shown at the 54th Venice Biennale 2011 and Mori Art Museum, Japan, last year and has screened at Cannes International Film Festival in 2009.
• Albanian artist Anri Sala, whose works bring together documentary, history, language and cultural memory. He was shown recently at Serpentine Gallery, London, and the ninth Gwangju Biennale, China.
• Film, photography and video artist American Amie Siegel.
• Multi-disciplinary artist Shahzia Sikander from Pakistan whose work explores the hybridity of her experiences and the integration of Hindu and Muslim culture.
• Korean artist Do-Ho Suh whose sculptures and installations - exhibited at the Hiroshima MOCA, 2012, Tate Modern in 2010 and at the 2010 Venice Architecture Biennale - explore spatial dynamics and cultural difference in unanticipated form.
The fifth Auckland Triennial is presented by the Auckland Art Gallery Toi o Tamaki with Triennial partner the Auckland University of Technology and exhibition partners including Artspace and St Paul St Gallery.
Trio of Triennial highlights
• Michael Lin/Atelier Bow-Wow's Model Home, Auckland Art Gallery
• Ryoji Ikeda's A [for 6 silos] sound installation at Silo 6 in Silo Park
• Saxophonist Andre Vida performing 3-2-1 live alongside Anri Sala's A Long Sorrow video installation at the Gus Fisher Gallery