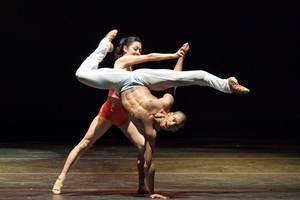 Auckland gave New York's Complexions Contemporary Ballet a standing ovation on opening night. They deserved it. Seventeen virtuoso dancers,
including company co-founder and artist-in-residence Desmond Richardson, whacked the audiences' breath clean out of its collective body with their first mega jolt of explosive energy, ferocious technique and eye-watering hyperflexibility in the opening bars of their new work, Moon Over Jupiter. And for the following two hours it stayed that way.
Moon Over Jupiter is a dark and intensely moody 30-minute piece, to Rachmaninov, performed by the whole extraordinary company. Exquisitely muscled male bodies with variously bared torsoes or thighs lift from the floor with impossible ease to balance gymnastically on their arms, legs extended over their shoulders - or throw themselves at full speed into side splits, again miraculously rising up again in (comparatively) slow motion through the unaided strength of those contracting testosterone thighs.
Girls too hurtle and fly and they all endlessly twist around the axis of their spines in wild variations of open hipped arabesque - and beyond. It is gymnastic, yoga on amphetamines, ballet to the beat of an incessant strobe lighting display.
But just as stage and bodies are dressed in arresting monochrone of
black and white and grey, enhanced by subtle swirls of dry ice, so is the choreography unremittingly monochromatic. Even when Rachmaninov is at his most melting, those bodies, intensely coupled in pas de deux, show no sign of a thaw from their magnificently egocentric display.
And so it goes.
On Holiday is a tribute to the songs of Billie Holiday and Come Rain or Come Shine, Good Morning Heartache, Lover Man and My Man, sung by Billy Porter, elicit four stunning and again virtuosic duets for four couples, but it is only in the last - and most wildly applauded - that human emotion begins to match the intense physicality.
Magnificent Desmond Richardson is astounding in his solo to Bach's Goldberg Variations, followed by Moody Booty Blues with Roy Buchanan on guitar, in another shimmering showcase for three men and two girls.
The final work of the night is Rise, to the music of U2 projected at eardrum splitting decibels and again sees the full company in ravishingly high voltage display.
The mood, like the music is up, up, up! And the audience are soon up on their feet too for this fantastic, frenetic, fit and undeniably friendly troupe. So who cares if it all seems just a little... superficial?
What: Rise: Complexions Contemporary Ballet
Where: Aotea Centre
When: September 29 - October 2