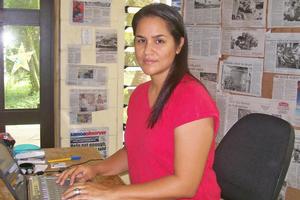 Once upon a time ... a tsunami awoke from the sea. It was like a beast that jumped out and crept towards us, it moved like fire over the land ...
Dozens of such stories - told by people who saw a giant tsunami rip through their villages, homes and kill family members - are being recorded in a book.
Samoan writer and teacher Lani Wendt Young has been commissioned to take down the stories of hundreds of people affected by the tsunami that killed almost 200 people in Samoa, Tonga and American Samoa on September 29 last year.
Ms Wendt Young, 36, has spent the past two months visiting villages on the southern coast of Samoa's Upolu Island, talking to survivors and hearing the devastating situations people faced that day.
She will travel to American Samoan and then to Tonga's Niuatoputapu Island in a few weeks to do the same.
"You ask people what the wave looked like and sounded like. Our people say: 'It was a beast that jumped out of the sea and crept towards us.' 'It growled like a demon.' 'It was a thief that came to steal us.' ...
'It moved like fire over the land,"' she said.
"Many families spoke at length for an hour or more about the waves, the digging for their family, the hospital, the morgue, the burials and their attempts to rebuild."
Ms Wendt Young said she had spoken to children whose parents had been killed, mothers and fathers whose children were literally forced out of their hands by the wave, and elderly folk whose grandchildren had piggy-backed them to higher ground. And there are hundreds of stories like those, she says.
"[I] met a fisherman called Oselani from Saleaumua. He was out fishing on his paopao [canoe] when the wave came and took him with it. He should have died.
"He ended up in a tree several villages over. He tells me that he knows what a galu afi [tsunami] is, because the water is hot, and it makes people sick ... it burns them inside ... the dead people from his village - their skin was peeling off like they had been burned," she said.
The book aims to record the survivors' stories so future generations will not only be able to read about the 2009 tsunami, but feel what so many have gone through.
The niece of celebrated Pacific Island poet and author Albert Wendt said the pressure to perform was immediate.
"People's nightmares become your own. I don't know if I will ever look at the sea the same again."
Follow her journey on http://samoacoconutqueen.blogspot.com/