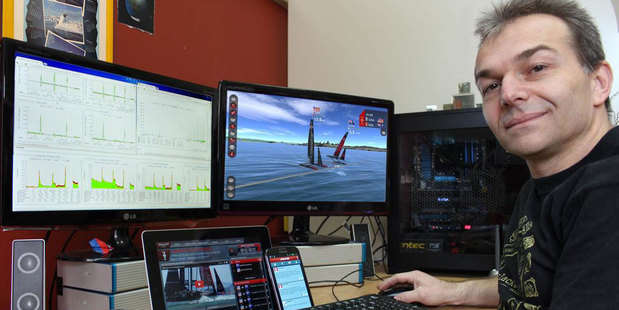 A Dunedin-based animation company has stepped into the global spotlight for its official America's Cup app, which has gone viral with nearly 300,000 downloads.
Animation Research Ltd (ARL) produced the app leading up to America's Cup with the help of a few other small companies from Queenstown and Timaru.
Yesterday it was the number one free sports iPhone app in New Zealand for the sixth consecutive day, and was in the top 10 in both Australia and Switzerland.
Apple featured it on the iTunes app store and it has since gained worldwide attention.
ARL chief executive Ian Taylor said the project had been a huge success for the company.
"Everyday since the America's Cup finals commenced we've been adding extra capacity to our systems to keep up with the demand", Taylor said.
Virtual Eye is the sports division of ARL responsible for the real time 3D graphics in the America's Cup, showing wind and water currents as well as distance between the boats and boat speed.
The virtual eye technology is also used in cricket, golf and Formula One.
ARL teamed up with Oracle's head of performance Ian Burns to help pitch the official app to Cup organisers.
"Although we had never built an app of this kind before he supported us all the way through from inside the organisation," Taylor said.
"It takes a tremendous leap of faith for someone living and working out of the high tech capital of the world to place such a significant project in the hands of a small company from New Zealand."
The app is currently still in the top 20 for free sports apps in the US for both iPhone and iPad, and has got the attention of tech firms in San Fransisco.
"It sends a really positive signal that you don't have to up stakes and move to the big centres to create international products. And you certainly don't have to leave New Zealand," Taylor said.
He said the app was unique in terms of what it included - viewers can watch races live and can switch between the different camera angles available.
The live chat allows users to interact and discuss the latest news and schedules.
ARL has been involved in the America's Cup since 1992, and gained early recognition for its 'Skiing Penguin' animation used by Bluebird potato chips.
The company also developed the Emirates Team New Zealand (ETNZ) app.