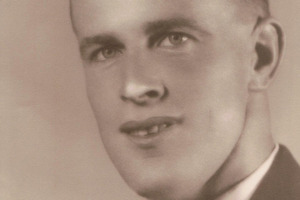 A 102-year-old who has not missed marching in an Anzac Day parade since returning from service nearly 70 years ago will be among those paying their respects tomorrow.
Opotiki man Brian Mansell served as a divisional signaller for the 2nd New Zealand Expeditionary Force during World War II, joining as a 30-year-old in 1939.
He was part of the second echelon diverted to England during the Battle of Britain before serving in North Africa for the Battle of El Alamein, Minqar Qa'im and in central Italy.
Tomorrow he will march - without his walking stick - as he has done every year since his return in 1944.
"It's for the blokes that didn't come back, that's what Anzac Day parades are really meant to do," he said. "There's not many World War II veterans left and they're probably aged 85 and above."
Also marching will be his son, retired police area commander James Mansell, and son-in-law, retired police senior sergeant Nigel McRae.
Mr Mansell's age did not make him less capable of taking part, said James.
"He walks a couple of kilometres every day," he said. "He takes his walking stick but he just swings it like Charlie Chaplin."
After he returned from war Mr Mansell married Mavis, and the couple will celebrate their 63rd wedding anniversary this year.
They have four children and live in their own home in Opotiki.
Mr Mansell retained a strong interest in technology after the war and opened a radio repair business that expanded to service television sets before he retired at 63. He now enjoys spending time on the internet and Skyping with his grandchildren and great-grandchildren.
Read more: Your guide to Anzac Day services.
* Watch the Auckland Domain Anzac Day dawn ceremony live on nzherald.co.nz tomorrow morning. Livestream courtesy of Maori TV.