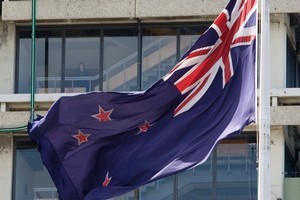 New Plymouth police are appealing for information after a New Zealand flag was stolen from the Cenotaph during Anzac Day commemorations.
The flag was stolen from its removable wooden pole after the dawn service yesterday - sometime between 6.45am and 9.15am.
Police yesterday went door-to-door looking for witnesses or anyone who saw anything suspicious.
A police spokesman today told NZPA the door knocking did not turn up any leads and no other witnesses had come forward.
"I'm hoping someone will spill the beans, but I'm not holding my breath," he said.
New Plymouth District Returned and Services Association senior vice president Graeme Lowe said the theft was the most hurtful insult possible to all servicemen and their families.
"I felt like crying to be quite honest," he told the Taranaki Daily News
"It was absolutely gut-wrenching. It's a flag that all the servicemen went away and fought under and some died under, that's why it's so significant to us."
At the end of the dawn service most veterans and their families went to the New Plymouth Club for drinks.
At 9.15am Mr Lowe returned to the cenotaph to ensure everything was in order for the civic service and found the flag was missing.
He said the theft was "beyond comprehension" and the reaction from fellow servicemen was "not very printable".
New Plymouth police came to the rescue and offered their flag so the ceremony could go ahead as planned.
- NZPA