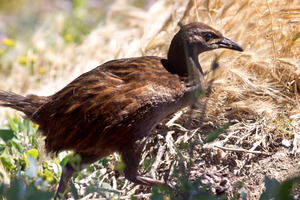 A western weka had to be put down after its leg was caught in a gin trap set in the Westport Domain.
A couple out walking found the juvenile weka with its leg caught in the trap at the weekend, said Buller District Council senior animal control officer Tracy Judd.
They were able to free the bird and called the council.
Unfortunately, the weka's leg was so badly broken that it had to be euthanised.
The gin trap had been nailed inside the fence line along the Roebuck Street side of the domain.
"These traps cause horrific injuries and are inhumane. This could have easily been a child's hand, a dog or cat's leg," said Mrs Judd.
A council bylaw prohibits using any form of animal trapping or snaring device in a public place or reserve without written council approval.
Mrs Judd is appealing for anyone with information to contact her in confidence.
Department of Conservation northern West Coast services manager Bob Dickson said no leg-hold traps could be used within 150 metres of a dwelling without the express permission of the occupier.
Nor could they be used in any area where there was a probable risk of catching a pet. "Leg-hold traps are a risk to our native ground dwelling birds, especially to the western weka which are a threatened species," he said.
Animal control officers, along with the Department of Conservation, would be monitoring the Westport Domain regularly.
Any traps found would be destroyed after the possibility of fingerprinting had been eliminated, Mr Dickson said.
- Westport News