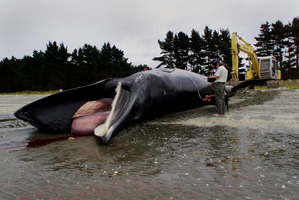 Ports of Auckland will ask ships to slow down in and out of the harbour to save endangered whales in the Hauraki Gulf.
The gulf is home to fewer than 200 adult Bryde's whales. On average about two a year are found dead, many from vessel-strike. Ports of Auckland will soon be asking visiting ships to slow to 10 knots in the gulf. If that doesn't work, they could be forced to slow down.
Hauraki Gulf Forum chairman John Tregidga said lower speed drastically reduced whale deaths.
"Most ships are doing around 12 or 14 knots so we aren't asking much."
Tregidga was positive that the measures would work and be complied with by the shipping industry.
"We will monitor the speed of every ship coming in. If the shipping industry don't reduce speed, and we continue to have two deaths a year, we will look at regulatory ways of reducing speed limits."
That's unlikely to go down well with the industry or port operators. Ports of Auckland has calculated a 10-knot slowdown would result in increased fuel and carbon costs of between $5.1m and $8.1m a year.
In a letter to Tregidga, the port said: "This equates to between $2.1 and $7.7 million dollars per whale fatality reduction."
Dr Rochelle Constantine, of Auckland University's School of Biological Sciences, who has studied gulf whales since 2007, said those killed by ships typically died slowly and painfully. Reduced speed was the best solution. At higher speeds there was an 80-100 per cent chance of death but at 10 knots it was reduced to 20-25 per cent.
Satellite GPS tracking was unfeasible as tags become detached; cost several thousand dollars each plus the cost of deployment; it was difficult to approach whales; and the batteries of tags emitting real-time locations ran down too quickly to be useful.
In 17 years, 43 whale bodies had been recovered . Of those, 19 had been examined and 16 had died from vessel-strike.
Fully grown whales spent 90 per cent of their time within 12m of the water's surface, making them particularly vulnerable.
Constantine encouraged boaties to report whale sightings to the port so ships could be advised.