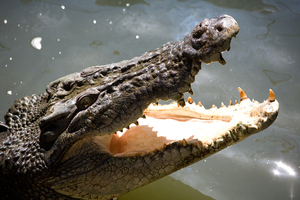 News coverage of a New Zealand man who survived stranded on a remote Australian island was the first his Wellington family had heard of him in nearly 20 years.
Ryan Blair, 37, was rescued at the weekend after a 6m crocodile kept him prisoner on Governor Islands in Australia's isolated far northwest.
His remarkable tale of a kayak adventure gone wrong, and his fear and panic of being stalked by the huge saltwater reptile every time he tried to paddle off the island, has been told around the world this week.
Images of him retelling his story is the first Margaret Blair has seen of her son since 1996.
Mrs Blair told the Herald her son was estranged from the family. After speaking with her husband, she said the Porirua family did not want to be drawn on how they lost touch, but hoped her son would one day make contact with them again.
"We are all just totally relieved he has come through his experience and he is still alive and well," she said. "We were tempted [to try to contact him] but we think it is best to leave it and see what happens.
"It will be interesting to see whether he stays over there or comes back here and we might be able to make contact then."
Mr Blair told media he had been living in Melbourne for about a decade, but grew up in Wellington. He was exploring the northern Australia coast and was dropped off by a yacht at Governor Islands with water, dry stores and a plan to island-hop in his kayak.
Two weeks into his stay he decided to paddle the 4km journey to the mainland to restock his supplies, but a large crocodile - believed to be the biggest in the area - came close enough to send Mr Blair scrambling back to shore and up some rocks.
He used a torch and mirror to signal passing boatie Don MacLeod, who rescued him.