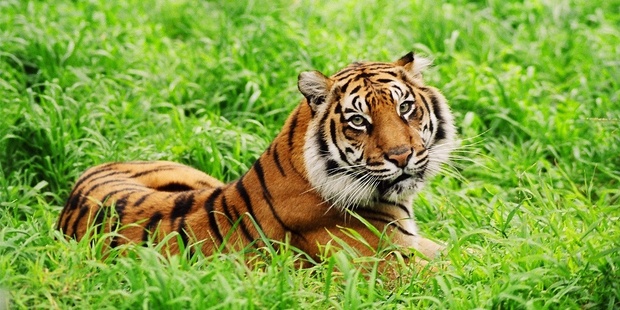 An elderly female Sumatran tiger has died at Wellington Zoo, in a "devastating" blow for staff and regular visitors.
The 21-year-old tiger, Cantik, came to Wellington Zoo from Burger's Zoo in the Netherlands in 1994.
Zoo staff said she was suffering from a malignant adrenal tumour and severe arthritis.
At her age, experts believed it was unlikely she would survive invasive treatment, so the tough decision to euthanise her was made last night.
"Cantik was loved by everyone at Wellington Zoo and has lived a long, full life here," said Paul Horton, the zoo's life sciences manager.
"Our staff and our partners at Pacific Radiology and Massey University Veterinary Teaching Hospital have done everything possible to ensure she received the best possible care throughout her illness.
"We know our visitors and community will be saddened by this news too and our thoughts are with them."
He said Cantik was an important part of the international conservation breeding programme for critically endangered Sumatran tigers, with only approximately 300 to 400 left in the wild.
Cantik, whose name means 'beautiful' in Indonesian, will have her legacy live on at Wellington Zoo through her son, Rokan.
Her offspring are well represented in zoos throughout Australasia with more than 20 of her descendants in the region.
In 2001, a Sumatran tiger at Wellington Zoo died after eating pet food contaminated with the euthanasia drug pentabarbitone.
- APNZ