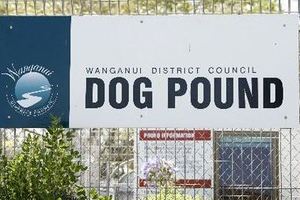 A pitbull dog dumped on the side of a country road with a litter of seven newborn puppies was suffering and critically ill from having an unborn puppy still inside her.
The case has shocked Wanganui District Council animal control officer Bernie Compton, who said a member of the public called and told him about the distressed dog and puppies on the side of a road in Brunswick.
The puppies were so young their eyes were still closed.
"It shocks me how people dump dogs throughout Wanganui on a regular basis. It's time people realised it's cruel to dump their dogs."
Mr Compton said people also needed to realise that dogs can cause huge problems if they are left to fend for themselves.
"If they can't look after their dog then just bring it into the pound. There will be no questions asked."
The pound would look after the dog, keep it safe and try and find it a new home, he said.
The dumped dog and her litter all had to be euthanised, he said.
"She had critical internal health problems and the puppies were way too young to be fostered out."
He said there was no charge for handing a dog into the pound and animal control staff worked hard to re-home any dogs.
"Sometimes it's not always possible though if a dog has serious health problems or behavioural problems."
The pound was pretty full this week, he said.
A large overflow from Marton had kept the Wanganui dog pound extremely busy during the Christmas period, he said.
And since Christmas the hot, sunny weather has meant Mr Compton has also been contacted by the SPCA to help with the number of dogs locked in cars in scorching heat.
"We can't gain access to the cars to help the animal; only the SPCA inspectors can do that.
"I really think we should be able to get into the cars as well."
The Wanganui pound was a great facility because it was in town and not hidden away on the outskirts, he said.
"And we like people to come and look at the dogs, which doesn't happen at other pounds. There are a lot of pounds where people have to wait outside the gates and wait for the staff to bring dogs out to them. We're very open here and it works very well.
"People visit us all the time so dogs have a good chance of being re-homed. Better this than dumping them."
Wanganui District Council was unable to provide details on fines or other penalties anyone caught dumping animals might face.
For more articles from this region, go to Wanganui Chronicle