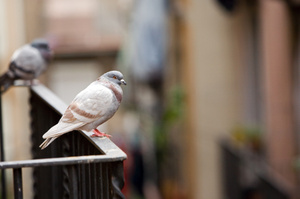 You must all know by now a moth is a monk: just look at his or her wings. The wings in question are magnificent robes. It's no wonder Chinaski wrote, "Be kind to the moth and the gods will smile on you."
We're dealing with peaceful, religious beings here. A moth is both still and will chase the flaming light, often until death. Life and death to him are inconsequential. How can we be surprised when monks self-immolate?
Jogging dogs just so happen to be trains: their legs are on-the-go but their torsos remain unmoving, inasmuch as a carriage of a train is directional but doesn't sway one iota when it thrusts forth.
The canine body, in all its muscular marvellousness, has all the structural angularity of a carriage of a train. Lest we forget, a jogging dog maintains exactly the same pace for miles, just as the train does. The comparisons are endless.
People needlessly give pigeons a hard time. They unfairly label them "rats with wings". It just isn't true; a pigeon is an unassuming man of portly proportions who takes in the scenery with hands gently placed behind his back. What I call a true observer. He isn't afraid of you because he likes you. Do take some time to like him back. The real "rats with wings" are aeroplanes, I think we can all agree.
Horses are ancient Egyptian monoliths. They are physical, visual perfection, animalified. Anatomically speaking, there's no wandering off with a horse, no slipperiness, no loose edges. They possess a physical architectural genius unheard of in an otherwise sloppy, floppy animal world. They've got the muscles! They've got the legs! They've got the power! Just don't take in their teeth.
New Zealand is pleased to be without snakes. One thing you don't want in your life is a snake. I can't believe certain people are petrified by cockroaches and spiders but gleefully consent to hold these writhing, mortifying numbers. A snake slithers, glides and slides and yet has scaly, dry skin. How revoltingly paradoxical.
A snake hisses; nothing in nature hisses, besides windswept trees. A tree can kill you, but it won't bite. Shockingly, a snake can do both. Give me a shark any day.
At least a shark doesn't mess around with sulky slithering. It goes straight for the jugular. It also doesn't have a sly look: it's a straight-up, in-your-face fella. A snake, to me, looks so conniving you can tell it wants your life and soul. A shark only wants the former, as he's too perpetually pissed off to notice the latter. His menacing, prop-forward face is a thing of beauty. And as Mishima will tell you, "Beauty is a thing which ... finally destroys." A prop mauls, a shark mauls. The two scarcely differ. Bless them both.