Donna McIntyre's up close and personal experience with a gentoo leaves her with happy feet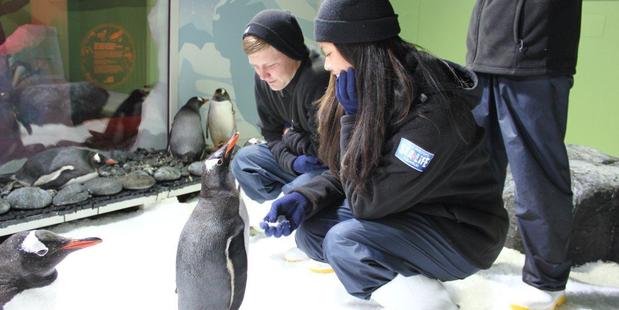 Don't touch the penguins, we're told. But someone has forgotten to tell little Noah not to touch the humans.
The year-old gentoo penguin is nibbling on Brianna's long hair, returning for seconds.
"Birdo" Brianna Smith, my son Aubin Dierick and I are on ice at the snow-filled Antarctic penguin colony of Kelly Tarlton's Sea Life Aquarium, privileged to spend 15 minutes up close with 88 king and gentoo adult penguins.
Paying general admission allows aquarium visitors to watch the penguins through double-glazed glass as they toddle about their routines in the temperature-controlled dwelling. But the Antarctic Ice Adventure walk-through experience lets you stand and kneel on the ice in zero degrees as these curious creatures come close to check you out. Compare it to having a coffee in the home of a famous person, and then watching them later on television. It feels different in person or, rather, in penguin.
As we come into the enclosure we are greeted by the trumpeting of Shadow and Bongo, both gentoos.
The kings are strutting their stuff, mirroring each other and stretching necks regally as part of their mating rituals. The gentoos are ahead of that game - some of their chicks are hatching, we glimpse them under their protective mothers on the rock nests. Proud dad Horace is defending the territory around his nest while his partner, Daisy, sits on an egg.
The gentoos are, by rule, monogamous - one pair, Buster and 99, have been together since 1997 - whereas the kings play the field more.
The "birdos" - the staff caring for the penguins - grow fond of their charges. They know them by name, not needing to look at the labelled bands on the birds' left wings. They point out Toddy and Squirtle as hard-cases, and Aubin is warned that Toddy might take a fancy to him as he prefers males to females - whether humanorpenguin.
We're told not to touch as humans handle these penguins only for vet procedures, such as to change wing bands or to cut toenails. But if we did reach out to pat the birds' velvety appearance we'd feel slickness, thanks to the oil produced in the the base of their feathers, which enables them to swim better.
Our 15 minutes of watching the majestic kings and the smaller gentoos pass quickly. Laura Seaman and her team of birdos prepare for feeding time and we leave the penguins' colony, taking off our gumboots, waterproof pants and polar-fleece jackets.
On the other side of the glass, we watch the 11am feeding. The birds' lifespan is 10 years longer in captivity and Kelly Tarlton's has an impressive 100 per cent survival rate with its newly hatched chicks. In the wild only two of every 10 survive the harsh conditions and predators.
After the feeding we visit the stingrays, sharks and other fish, and the eels who pop their heads out of the water to look at us as much as we're looking at them.
We're buzzing. It's not every day you get to look a penguin in the eye. We leave the aquarium with happy feet.
Be in to win
Weekend Life has one family fitness package of Icebreaker gear to give away, worth more than $500. The pack contains women's Dart shorts and Rush bra, men's Sonic crew top and Sonic shorts, kids' tank and Icebreaker socks for the whole family. It's perfect for busy people in the summer and great to layer under cold-weather gear in the winter.
To enter, go to nzherald.co.nz/weekend, enter your details and type in the keywords Icebreaker Family Pack by midnight, Wednesday, February 6.
What: On The Ice Experience
Where: Kelly Tarlton's, 33 Tamaki Drive. Ph (09) 531 5065, bookings essential.
Price: $250. Minimum age 14.
Times: Daily at 10am.