Signs of economic recovery are being seen in time for New Zealand's blue-ribbon bloodstock event.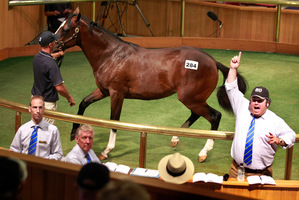 The rich and the famous will be breaking out the cucumber sandwiches and champagne this week when they attend the biggest event on the New Zealand bloodstock calendar - the National Yearling Sales at Karaka.
Some of the well-to-do will be arriving by helicopter but the sale itself is unlikely to reach the giddy heights achieved just before the onset of the global financial crisis.
But insiders do expect to see an improvement on previous years' sales.
The event draws the curious, the rich and the seriously rich such as Eduardo Cojuangco, who is ranked by Forbes magazine as the Philippines' 10th richest person.
Cojuangco, who heads up the brewing giant San Miguel, still holds the record paid for a horse at Karaka of $3.6 million in 2000.
Arab sheikhs have been known to turn up and the attendance of famous Australian trainer Bart Cummings is a dead cert.
Cummings is understandably a fan of New Zealand horses. Of the 12 Melbourne Cup winners he has trained, the majority of them have come from New Zealand.
"It attracts people from all walks of life but certainly a lot of wealthy people, that's for sure," said Andrew Seabrook, NZ Bloodstock's co-managing director.
Racing, like many other industries at the luxury end of the market, has felt pinch of the global financial crisis.
Sales at Karaka reached $111 million in 2008 before the global financial crisis began but have since struggled to break $100 million.
Sales last year totalled just $77 million.
There is no doubt the industry has faced tough times in recent years but Seabrook said there was light at the end of the tunnel.
"We are just starting to recover now."
About one third of New Zealand's foal crop is sold at Karaka. Around 1500 horses will go through the ring, starting from today, ranging in price from just $2000 to $1.5 million.
New Zealand horses have a good name because the climate and environment tend to suit strong, tough, durable and sound horses that run good distances, Seabrook said.
The experts say the country has good "staying" bloodlines - horses that do better over long distances such as the 3200m long Melbourne Cup. Australian horses tend to be better sprinters and do well over shorter distances.
Horse race betting has been improving, albeit gradually. The trend has changed however, with totalisator betting on its way down while fixed odds betting has improved.
"It's slowly coming back now with prize money starting to pick up," Seabrook said.
About half the horses that go on sale at Karaka are exported, eventually to Australia and Asia.
November sales of two-year-old horses that are broken in and ready to go have proven popular, particularly with Asian buyers.
Seabrook's tip for this week's sale - look out for lot 63 which was sent over to Karaka from Sydney.
Lot 63's father is the popular Australian sire Fastnet Rock, and is a potential sale topper, he said.
1492 prime yearlings for annual auction
New Zealand Bloodstock's National Yearling Sales Series will see 1492 thoroughbred yearlings catalogued for auction across seven days of selling from today to February 4 at its Karaka Sale Complex in South Auckland.
At this sale last year, total turnover was more than $77 million; the combined sale average for the week was $78,000.
In 2012, over $32.7 million of bloodstock was bought by Australian buyers, New Zealand's leading export market. Hong Kong spent $12.3 million and Singapore spent $3.9 million. There were also active buyers from Japan, Macau, Malaysia, Netherlands, South Africa, UK and Ireland and USA and Canada.
New Zealand's domestic buying bench spent $25.8 million last year, within $100,000 of their total spend in 2011. In 2010 New Zealand buyers spent more than $36 million.
The top price in 2012 was $1.75 million outlaid for the Fastnet Rock/Nureyev's Girl colt that was bought by David Ellis, the principal of Te Akau Stud.
Karaka still holds the record for the highest priced yearling to be sold at auction in the Southern Hemisphere, with $3.6 million being paid in 2000 for the now stallion, Don Eduardo.
The leading vendor at the National Sales Series for 31 years in a row is Sir Patrick Hogan's Cambridge Stud. Last year the stud sold 54 horses for $11.2 million.
Every horse in the Karaka Sales Series is eligible to enter for the Listed $1 million New Zealand Bloodstock Karaka Million, which was held yesterday.
One of the best horses in the world last season was purchased at Karaka. So You Think - which cost $110,000 as a yearling in 2008 - has won over $11 million in prize money. A half interest in the horse was acquired for a rumoured $30 million.
- APNZ