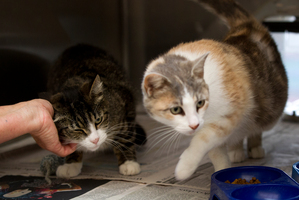 Dear Gareth and Bob,
I am a cat-loving bird rescuer - though the birds are usually being rescued from human predators and their cars on the roads, or nature when they hit the ground from the nest too soon. I am also a professional mediator and teacher of dispute resolution.
I've always introduced my students to Aristotle's Art of Persuasion. Essentially, if you haven't won the heart then you'll never win the mind - so the odds here are with Bob if we go down that track. Birds and cats can both be cute but cats are cuter and way better company.
However, I would like to invite both gentlemen to contemplate what you agree on.
Here you go:
1. Cats should be de-sexed (unless owned by registered breeders).
2. Cats should be micro-chipped.
3. Feral cats should be eliminated - nicer for them as well as the birds . Their lives are, thank you Thomas Hobbs, nasty, brutish and short.
4. Domestic cats which are no longer wanted by their owners should not be dumped in the bush. Not nice for either birds or cats (see 3)
5. Cats should be kept inside between dusk and dawn. Nicer for both (sorry about the repetition). Cats hunt most successfully in those twilight hours and they also fight most and get run over most then as well.
6. Cats should wear a bell on their collars. Better for birds and doesn't worry the cats after the first 15 minutes.
7. Responsible cat ownership will involve all of the above and go a long way to satisfying a common interest in the welfare of our native wild life and our cat friends.
Finally, there is also a commercial research opportunity for someone with some spare funds for research and development. What we need to get to the market is a cat with short legs, limited attention span and a consistently inactive lifestyle. Such a cat can go 14 years without catching a bird. (She once, possibly, caught a moth but I think it may already have been dead). In the interests of this project I would be happy to contribute Cleo's DNA - of course, as one of the responsible cat owners outlined above, she was spayed without issue.
If, when you think about all the compatible views you share, you still can't bring yourselves to work together, then please contact a mediator. You'll find them in the Yellow Pages.
Virginia Goldblatt is a disputes adviser at Massey University.