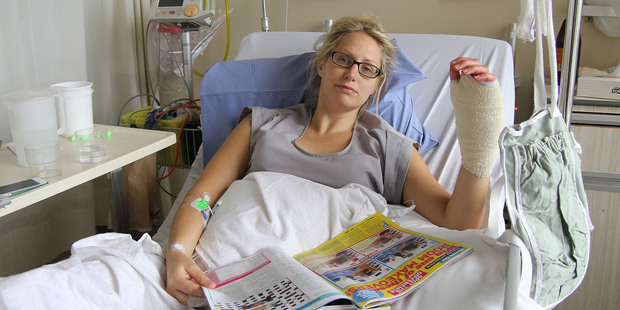 A woman was hospitalised and underwent surgery after a savage attack by two dogs in Christchurch.
Kyla Strahl, 27, is questioning why authorities have not impounded the two animals.
She underwent more surgery yesterday, after the dogs attacked her while she was trying to pull them off her family's labrador, Rudy.
The attack happened as Ms Strahl walked through the gate of her mother's home which backs onto South New Brighton Park after walking Rudy on Monday morning.
The dogs belong to a neighbour.
"I heard the dogs before I saw them. I heard Rudy scream and then that's when I tried to get them off and they latched onto me," said Ms Strahl.
"I pulled my arm out of the dog's mouth - it all happened so quickly, I was in complete shock," she said.
It took five people to restrain the dogs including her eight and a half month pregnant sister.
Only when her uncle's partner grabbed a hose to spray water at the still attacking dogs did they finally loosen their hold on Rudy, said Ms Strahl.
The city council animal control were called, but the dogs have remained at the property, causing alarm to the family, said Ms Strahl.
"The animal control officer I spoke to said they had enough information to prosecute for the destruction of the dogs, but he wanted to give the owners a chance to do it voluntarily," said Judy Strahl, Kyla's mother.
"He also said that it is the dogs' first offence - but these are animals not people. How can you give them a second chance?"
Judy Strahl said she felt vulnerable because the dogs were still in the neighbourhood.
She said her daughter was traumatised from the attack and often burst into tears when thinking about it.
"She did bear the brunt of it - even with her injuries, Kyla was still trying to get the dogs off Rudy," she said.
Ms Strahl suffered bite marks that went to the bone of her left forearm. She also had severe bite marks on her wrist and hand and her leg.
"Poor Rudy was screaming up a storm and Ryan, Kyla's partner, was trying to pull the dogs' off Rudy too. I had one of them by the back leg but they still stayed locked onto Rudy. My other daughter who is eight and a half months' pregnant was knocked to her knees by the dogs when she tried to get them off," she said.
Rudy suffered bites to the cheek, ear and her stomach.
A tennis player at the nearby courts raced to help on his bike.
He jumped into the property where the dogs' belonged , opened the gate and the group helping Ms Strahl managed to get them back onto the property.
Ms Strahl, a chef, who is based in Spain will return there in two weeks.
She is anxious to hear from the city council animal control so she will have peace of mind that the offending dogs will be dealt with.
The city council was unable to provide The Star yesterday with details as to what action, if any, is being taken over the incident.
Read more: Fate sealed for dog after two years on death row