Penguin faces 3000km swim though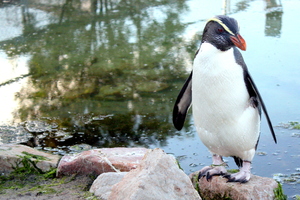 Intrepid Fiordland penguin Katrina could be home for Christmas, says the Australian animal sanctuary boss who nursed her back to health.
Two-year-old Katrina captured media attention on both sides of the Tasman after she washed up injured 3000km away from NZ on a beach near Mt Gambier, in South Australia, in May. She weighed just 1.3kg and had a large gash to her abdomen. Following surgery and six months recovering at Aaron Machado's South Australian animal sanctuary, she was released back to the wild.
That took place on November 2, when Machado took Katrina, then weighing 3.7kg, back to the beach where she was found and watched her waddle into the ocean. "My God, she can swim ... we saw her pop up once about 300m offshore then she was gone."
The penguin's homing instinct would be strong and he had no doubt she was New Zealand-bound. No tracking device was fitted, but it was possible Katrina was already home.
"I'm optimistic. She was a healthy girl when she left here. She most definitely could be home by now; that wouldn't surprise me in the least."
While Katrina was in his care, Machado fought pressure to place her in Sydney's Taronga Zoo. Initially, he wanted her flown home, a suggestion the Department of Conservation rejected as unnecessary. He received about a dozen emails from Kiwis angry he would not give the penguin to the zoo, but he stood by his decision, Machado said. "It was sad when we let her go. We looked on the horizon and there was this little animal walking out to the water, but she was born in the wild and that's where she should be."
The news is less positive for a New Zealand seal pup, named Emma, who has been recovering at the sanctuary since June. Emma had surgery to remove rocks from her stomach, but she was still "not doing too well", he said. Tests were continuing to try to find out what was wrong with Emma.