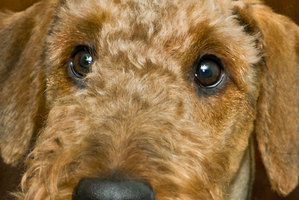 A dog owner who pleaded guilty to ill treatment of an Airedale terrier in January last year has been ordered to pay $5000.
Adam Olmstead was also disqualified from owning pets for a year after pleading guilty in the Manukau District Court today.
Olmstead's Airedale terrier had to be put down after it was found lying in his garden covered in its own faeces, severely weak and unable to walk with a ruptured tumor beneath its ear.
A SPCA ambulance officer was called to a Howick property on January 2, 2011 to take the dog to a vet clinic. Olmstead claimed to have only just noticed the dog's poor condition.
Olmstead did not go with his terrier to the clinic and instead gave his consent for the dog to be euthanised over the phone.
SPCA Auckland chief executive Christine Kalin said it was obvious the dog had been severely neglected and in acute pain over a considerable period of time.
"For the owner to claim that he had only just noticed any of this is simply unbelievable. This was confirmed by the vet who felt it was impossible that Mr Olmstead could have 'just discovered' the overall condition of his animal."
Ms Kalin encouraged the public to be proactive in reporting animal neglect.
"The message here is simple: Animal owners cannot just stop caring for their pets and then casually expect the SPCA to turn a blind eye. People who inflict pain and suffering on vulnerable animals in their care will be held accountable," said Ms Kalin.
- nzherald.co.nz