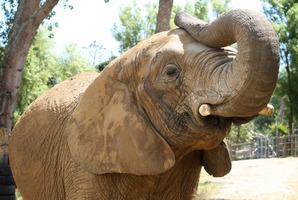 A project to re-home Mila, the elephant which killed her keeper, is expected to get under way next month with the arrival of an overseas elephant expert.
Dr Helen Schofield was killed by former circus elephant Mila at Franklin Zoo, South Auckland.
Schofield, a respected vet who owned and managed the zoo about 60km from downtown Auckland, died in April after Mila crushed her in her cage.
The zoo is now closed and a fundraising effort is under way to find a new home in the United States for New Zealand's only African elephant.
Schofield's sister, Jenny Chung, said an elephant manager hired to handle Mila's move would arrive in New Zealand next month.
The zoo's charitable trust would hear her views on a number of possible homes for Mila, which the manager had visited in the US.
It was important for Mila to have other elephants to socialise with.
The fundraising campaign would start in earnest once the trust had decided where she would be moving to.
Meanwhile, the elephant known in her circus days as Jumbo was doing well with support from Auckland Zoo staff, Chung said.
"We're looking after her every day."

Donations for Mila's future can be made at franklinzoo.co.nz.