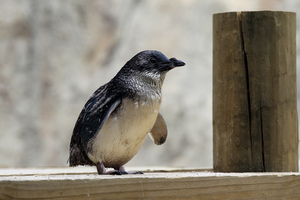 Three penguins have been killed on a single stretch of the Coast Road in just a month, bringing the total penguin road deaths to over 100 in five years.
West Coast Blue Penguin Trust supporter and Fox River resident Fiona McDonald picked up the latest dead bird at the weekend.
Three main blackspots on the Coast Road have now claimed the lives of at least 100 of the rare penguins in five years.
Ms McDonald said she had not counted any penguin tracks on Pahautane beach, near Fox River, this year.
"The numbers tell the story, I cannot believe the decline on Pahautane beach over the past few years.''
The annual penguin census this year was one of the lowest on record.
Trust ranger Reuben Lane said the birds were not only vulnerable to being killed by traffic, but dogs, storms, coastal erosion and coastal development.
At this time of year, they were nesting and were often out and about exploring, or looking for a mate.
"Unfortunately, some penguins choose nesting sites where penguins have nested perhaps for millennia, but a road has been developed between the nest site and the sea and, while they are feeding chicks, they will be crossing the road twice a day, putting them at great risk,'' Mr Lane said.
The trust said it hoped motorists would slow down when they saw penguin signs displayed on the roadside.
It has also been talking to Opus and the New Zealand Transport Agency about building a penguin-proof fence at the Coast Road blackspots - McCarthy Creek, south side of the Fox River bridge and Pahautane beach.
"The plan is for a simple plastic mesh fence that would prevent penguins straying on to the road at several of the major mortality sites,'' he said.