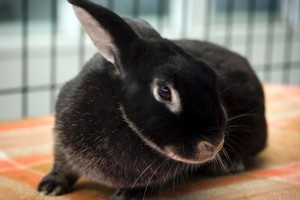 Petra is a crossbreed adult rabbit looking for a nice new home, where she will get lots of love and affection.
She has a stunning black coat with a striking silver lining.
Attendant Justine Somerville describes Petra as a "dear little girl" and says she would make a great pet.
Petra loves to be picked up and cuddled. This small bunny particularly adores having her ears stroked.
All SPCA rabbits are temperament tested, desexed, microchipped and vaccinated.
TO HELP
To adopt Petra, or any of the other wonderful animals at the SPCA Village in Mangere, contact the SPCA on (09) 256-7300. Petra's SPCA Village ID 218568.