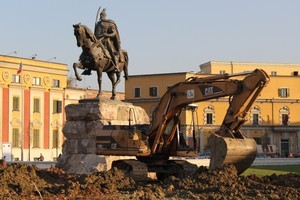 What is it with developing countries and driving? Is there some universal road code circulated to drivers so that mayhem on roads can be standard?
Does it have golden rules that you must remove all seatbelts and drive while talking on the phone or, better yet, texting? Overtaking on blind corners seems to be the norm on particular on steep mountain roads.
If all of the above are done at the same time you're basically ready for Formula One.
As we headed out of Montenegro towards the Albanian border and passed a couple of car wrecks, Charlotte and I realised that yes, we were indeed entering a region that was going to be a wee bit backward.
After we crammed into a minivan and saw our lives flash before our eyes more than once, we made it to the Montenegrin capital Podgorica, and from there minivans went no further.
With some exaggerated hand movements we negotiated a ride to the border with a taxi driver. The traffic thinned out at this lonely border and we found ourselves in the middle of nowhere.
A grumpy official on the Montenegro side gruffly asked " Where are you going?"
I couldn't see many other countries around so I said "Albania".
He grunted in approval and we then had to walk 300 metres to the world's friendliest border official.
He gave us a big grin when we said we were from New Zealand and even gave us a salute as he sent us on our way.
There were no buses, so we found a bunch of guys standing next to their shiny Mercedes-Benz and sorted a ride to Shkoder, Albania's biggest city in the north.
This country is still coming to grips with the 21st century after decades of communism and dictatorship. There aren't many places left like this in Europe, let alone the world. I'd been threatening Charlotte that if she got on my bad side, I'd get a good price for her from some gangsters here. Joking aside, we were a touch nervous.
The roads in the north are atrocious, undeveloped, pot-holed affairs, so it was slow going in the Merc. I noticed that almost every other car was also a Mercedes. It's an irony that in a land of such poverty this luxury car is standard. I guess most of Europe's used Mercs come here to die.
Driving through the countryside was like stepping back in time, it was beautiful but tough rural country where hardy people lived from the land.
We saw woman and men (some still in traditional garb) ploughing their fields by hand, families travelled by horse and cart. It was unbelievable after only recently being in the opulence of France and Italy.
Shkoder is no beauty. It's a bustling town of necessity with a vibrant energy. It's also in transition, with roadworks and construction everywhere.
We hadn't booked a place to stay, but we'd heard the only cheap accommodation around was in Hotel Rozafa. A big old communist block of a building smack bang in the middle of town, all roads led from it.
There wasn't much to see in town apart from a massive castle on the outskirts. On the flipside though, we seemed to be the local attraction. People actually came out of shops to look as us walking past.
Women in headscarves grabbed each other and pointed, men muttered to each other as they checked out the blond girl walking with me.
We did notice the mosques dotted all over the place, and the call to prayer; loud, exotic and haunting. What made it all the more intriguing was the number of Orthodox churches around as well, symbolic of the religious and ethnic blend of this ancient country.
In the evening we headed to a restaurant suggested to us called Tradita, an old rustic building with a massive fire place that's also the oven and which was said to serve some of the best food in the Balkans.
We couldn't understand the menu so the waiter said he'd just bring us an assortment. The table was soon covered with amazing food. It's a mix of Greek, Turkish and Croatian cuisine with an Albanian twist of course.
We ate and drank like kings for three hours, but paid like paupers - only 18 dollars. It was easily one of the best meals I'd had in my life, all of it cooked next to the wood fire.
We waddled out with big smiles on our faces. If you ever make it to this town, go to Tradita, it's a highlight.
The next morning we jumped on a local bus (to the dismay of the locals) and headed down to Tirana.
The centre of the capital is the massive Skanderbeg Square, and it's a mess. It's being dug up and given a face lift, a huge job being funded by Kuwait. I'm sure it will look amazing once completed.
We passed shops still selling cassettes (remember those) as we headed to an area called Blloku. It's meant to be the Tirana of the future, and it is.
A cafe culture has taken over, complete with glitzy shops and glammed-up people with big sunglasses. Big nightclubs are also located here and you can easily see it's the youngsters that are moving this country into modern society.
We wanted a bit of culture so went to the national history museum. But it had a special exhibition on, so the main museum was closed.
The exhibition happened to be an Albanian Army expo. There was weaponry everywhere and it was the place to be for a wholesome day out with the family.
While dads sat in heavy armoured vehicles, their wives checked out the latest in military fashion. The kids, meanwhile, played with pistols, machine guns and sniper rifles... happy families.
We wished we had more time for Albania, but the journey called. If you want an experience of what backpacking was like years ago, this is it, but you'd better be quick, it won't last.
We skipped over to Macedonia and Ohrid, a Unesco World Heritage site.
A beautiful old town, peppered with churches and ruins, Ohrid was stunning and peaceful but we're on the move so couldn't stay more than a night.
Oh well, that's how it goes, but we can't wait for northern Greece and Turkey.