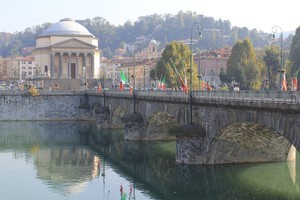 Leaving London was a blur of packing, parties and hangovers. After five years living in the Big Smoke, it was an end to a fantastic era, but I hardly had any time to think about it, or the enormity of what we were about to undertake.
Mauricio has always wanted to travel overland back home (he wants to tick off 100 countries before he's 40 - he's 35 - at the moment the number is over 80) and I thought it was a pretty cool idea myself, so here we are.
I'm a little nervous as I'm more of a Bellinis and blow waves girl than an intrepid wanderer. Who knows, maybe by the end I'll be wearing tie-dyed fisherman's pants complete with dreadlocks. I doubt it, but it would be nearly worth it to see the look on my friends' faces.
So here we go: Three months of pretty much non-stop travelling.
Closely resembling pack horses we headed to Kings Cross St Pancras and caught the early train to Lyon. Once we were settled into our (budget) hotel our first mission was to find the biggest indoor market in France.
This is why I love Europe. Food food and more food. There were mini restaurants dotted throughout the massive space but we realised once we sat down that the place we'd picked specialised in tripe. Not so keen on that but wanting to be a bit adventurous we ordered pigs' feet. An acquired taste is all I'll say.
Next stop was a cafe in the heart of the city owned by a Kiwi girl. La Boîte A Café opened in April this year. When we visited it was doing a roaring trade.
Owner Rosamund Morris James says the Antipodean coffee scene is slowly but surely taking hold in France. But she says it's been tough to convince the fiercely traditional French to replace their long espressos for creamy flat whites.
Next morning our first priority was to find an Irish pub to watch the All Blacks' Rugby World Cup semi-final. We chummied up with some Kiwis, and sent an Aussie group smug looks once the game was over.
It's worth heading up the hill to see Lyon's Basilica of Notre-Dame de Fourvière. We are a bit of a tough crowd sometimes when it comes to churches and mass tourist attractions in general, but the detail on the walls and ceiling make this one really quite amazing.
The train to Turin was an experience. In our carriage we had a snorer, a starer and a stinker, and in the next cabin, a bunch of screaming Italian kids.
It was worth it in the end though because Turin is fabulous. Eclipsed by those "must-sees" like Florence, Rome and Venice, it's Italy's forgotten city, which is a shame but then again, one of its charms is the lack of tourists.
How's this for a good omen: An All Blacks flag was hanging off the balcony opposite our hotel!
In an attempt to boost its profile, Turin was this year chosen to host Esperienza Italia - a nine-month celebration of the 150th anniversary of the founding of Italy.
As a result, Turin looked much as I imagine New Zealand does at the moment, though the colours were different: red, white and green instead of black and white.
Italian flags were hanging from almost every second balcony and car antenna. It created a great vibe and as we wandered about we kept repeating how much we loved the city. It felt alive - from the man singing as he sold bread in the market to the fight between two gypsy women in the crowd.
One of the spectators shouted "Mamma Mia!" as he walked away - I didn't realise Italians actually used that phrase, I thought it was just something we foreigners made up to imitate them.
Of course you can't go to Italy without mentioning the food. The simplicity of it is the key.
We're loving the anti-pasti, primi and secondi combo (Pre starter, entree and main). Waiters look at you strangely if you don't order them all and the first course is normally a big bowl of pasta.
I'm making the most of storing up body fat. I suspect I'll need it if I get Delhi Belly - that's what I keep telling myself anyway...
So, next stop Verona, then on to Slovenia. But most importantly, we need to find somewhere to watch us win the final in Croatia.