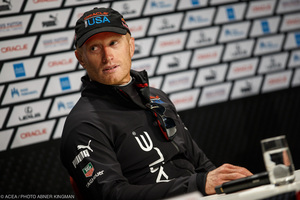 It must have been a little galling for Team New Zealand skipper Dean Barker to sit next to his opposite Jimmy Spithill and hear him compare the Kiwi crew being denied a certain victory because of the clock with the hardship of the sanctions imposed on Oracle Team USA for cheating.
With a 1.5km lead as they closed in on the bottom mark for the final time, Team NZ had the America's Cup firmly in their grasp before the race was abandoned as the time had expired. It was a cruel blow for a team who have twice previously suffered the frustration of having racing called off while they were in strong positions because the wind exceeded the limits.
Never mind, it's all swings and roundabouts, claims Spithill. He was prepared to take a bit of luck after his team were penalised two points heading into the Cup match for illegally modifying their boats in the world series regattas.
He also reiterated how tough it has been for his team to lose their wing-trimmer Dirk de Ridder, who was banned from the event for his part in the cheating scandal, which meant changing their crew four days from the start of the match.
Sorry Jimmy, but could you explain exactly how any of that was bad luck?
The Oracle team found themselves in a tough spot heading into the regatta for sure, but it was a mess entirely of their own making. They cheated, and they were penalised for it. It is disingenuous to compare their situation with yesterday's time limit overrun which denied Team NZ the chance to close out the series.
There has scarcely been a greater hard-luck story in international sport. After six years of hard work and toil, Team NZ had the Auld Mug inches from their grasp having amassed an unassailable lead as they gutsed their way around the course in the difficult, shifty conditions. Then, just as they are about to turn for home, the flag goes up - the race has been abandoned. You can only imagine the disappointment on the Kiwi boat.
While Oracle skipper Jimmy Spithill was happy to have the clock save his team's defence, his tactician Ben Ainslie had some sympathy for Team New Zealand's cause.
"I think we've all been in that situation where you've got a hand on the trophy and you have to come back and do it all again. It's a tough situation to be in. We certainly feel fortunate."