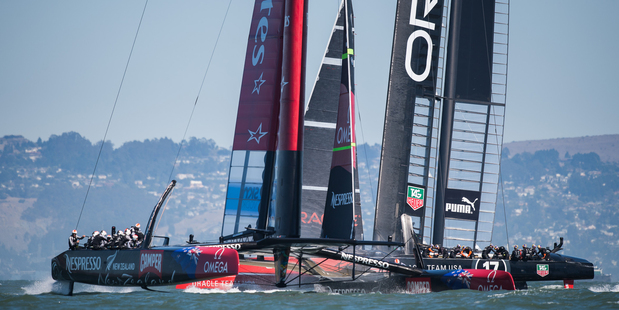 We don't want to jump the gun. Well, actually we do. When the debate starts for the whys and wherefores of the next Cup, we'd like to sway their judgment. Pick us, pick us. Here's why:
1. We're fast learners
It's a delicate thing to bring up, but remember the Rugby World Cup: we turned an opening night debacle into the best party ever on finals night, in just six weeks.
2. We have two, no six, great spots to host the syndicates
From Westhaven Marina to Wynyard Quarter all the way around to Queens or even Wynyard wharves, we've got some great potential spots just waiting for the sheds of the other yachting syndicates.
3. We do our best work under deadline
We transformed the Viaduct for the 2000 cup and turned the scruffy western waterfront into Wynyard Quarter for the Rugby World Cup.
4. We can get you around easily
With the tramline extended from Wynyard into Quay St, all those pretty new electric trains, we can get visitors, crews and workers around the city more smoothly.
5. We'll welcome the kids and families
Cup crews bring their families along. Like we did last time, every school and neighbourhood will welcome the Cup families into their hearts. We'll fire up the barbie, welcome you to our street parties, you won't be strangers for long.
6. We've got plenty of places to watch
With race options in the Waitemata Harbour or out on the Hauraki Gulf, we've got loads of great viewing spots for everyone to watch. You may need to book your spot on Devonport's North Head now, but all along the coastlines, or around the waterfront, there are spots galore for everyone to take part.
7. We'll feed you well
Weight may be an issue for the boat crews, but for the rest of the teams and supporters, there's an all-you-can-eat smorgasbord going on with the hundreds of eateries within minutes of Cup base.
8. We've got plenty for visitors to do on a rest day
When the crowds are hanging around between races, we can point them to our beaches, our unexpected city bush walks and farms, cool cycling, gorgeous gallery and museums, adventure parks ... and that's before they head out of town.
9. We'll get the provinces involved
No, it's not just about Auckland.
10. We'll wrap a summer of festivals around you
Four years is a long time to hang about waiting for the racing to start. So we'll treat you all to some swish festivals - arts, food, cultural, music - that will prove this is one cool, liveable city.