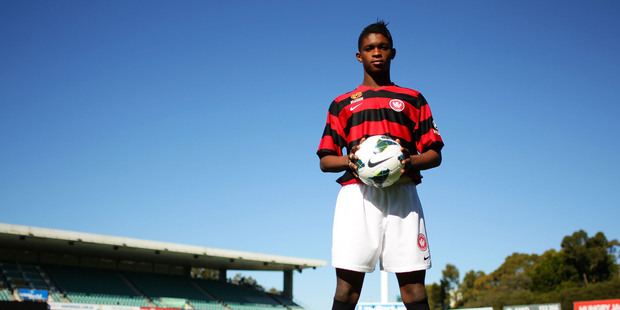 All Whites coach Ricki Herbert had approached West Sydney Wanderers winger Kwabena Appiah-Kubi about declaring his allegiance to New Zealand.
Appiah-Kubi was born in New Zealand to Ghanaian parents before moving to Sydney at the age of seven, making him eligible for three countries.
But Herbert has watched the development of the 20-year-old with some interest and has met with the player to assess his international intentions.
Appiah-Kubi said he was in no hurry to make a decision but he confirmed Herbert made him an approach when the minor premiership-winning Wanderers were in Wellington.
"[Herbert] spoke to me after the 2-0 win in Wellington recently, and gave me a lay-out of what playing for the New Zealand national team would be like, how the set up would be," Appiah-Kubi told the Football Australia website.
"I listened to what he had to say and have talked about it with my parents, but I am not really close to making a decision at this stage of my career, but I will keep it in mind.
"At the moment I am not going to make a decision after one season and my first year as a pro and do something I might not want.
"When it comes down to having to choose I'll make my mind up, I'm not really thinking about it at all, I'm letting my management handle that, I'm just concerned about playing better for the Wanderers."
Appiah-Kubi was on the books of Central Coast before leaving to join West Sydney in their inaugural season. He made 12 appearances as the Wanderers clinched top spot in the A-League to earn a home playoff next weekend.
Appiah-Kubi has not represented Australia at any level, meaning he is not expecting any complications no matter for which of the three countries he chooses to play.
Competition is tight for places among the Ghana national team, quarter-finalists at the last World Cup, and Appiah-Kubi would probably be required to move away from Australia to break into the Black Stars.
The All Whites, of course, provide the lure of a possible place at next year's World Cup. Appiah-Kubi could feasibly attain selection for the two-legged Concacaf playoff in November, from which New Zealand could seal their place at Brazil.
- APNZ