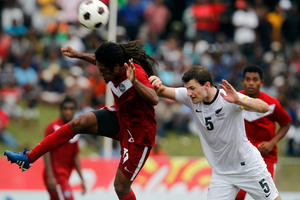 Whenever Ryan Nelsen's retirement comes, finding an appropriate successor as national skipper will be a challenge for coach Ricki Herbert and the All Whites' brains trust.
Tim Brown had been Nelsen's long-time deputy but, after his surprise retirement last March, Tommy Smith and Ivan Vicelich have shared the captain's armband whenever Nelsen has been unavailable.
However, Vicelich, 36, can't be seen as a long-term option while Smith has had his own struggles over the last two years. The Ipswich defender was outstanding alongside Nelsen at the 2010 World Cup - but often hasn't looked the same player without Nelsen by his side. This was pronounced at the infamous Oceania Nations Cup in Honiara last year, where, like many of his team, he was out of sorts.
Smith was affected by the sweltering conditions but also seemed to struggle with his own game, perhaps given the burden of captaincy.
At 22, he was the youngest ever All Whites skipper last May for the friendly matches against El Salvador and Honduras (and performed with some aplomb) before backtracking at the Nations Cup.
He has also had issues at Ipswich, at times struggling for a starting spot.
However, Smith has some great attributes. He handles himself well off the field and was a regular skipper of junior teams at Portman Road and also captained the Ipswich reserve side as an 18-year-old.
Meanwhile, Winston Reid goes from strength to strength. He had an uncomfortable start in the Premier League with West Ham but the subsequent year in the Championship did wonders for his game and he has since developed into an accomplished Premier League defender. He has recently signed a two-year contract extension and the 24-year-old captained West Ham in last week's FA Cup replay against Manchester United.
Aside from Vicelich, Smith and Reid there are few other options. The wildcard could be 30-year-old Andrew Durante. It would be a massive call to make the Australian skipper of his adopted nation but the long-time Phoenix skipper does have strong captaincy attributes and Herbert is an undoubted admirer.
Provided he obtains all the necessary Fifa clearances, Durante may be available for the qualifying matches in March but, if not, should be available later in the year.
"Tommy's had a go at it and I think that's important," Herbert said. "I think Winston comes well into the mix and, like I say, who knows with Andrew. There's a bit of red tape to go yet but I think they'd be three very strong contenders to lead the side in a very good way. A very strong way."
Whoever is chosen, it will be hard to replace Nelsen.
"It will certainly be a sea change," says New Zealand Football High Performance manager Fred De Jong. "Aside from captain, the bigger question is leadership and there might be more of a leadership group. I don't know if anyone stands out as someone who might command this team. There might be a new approach."