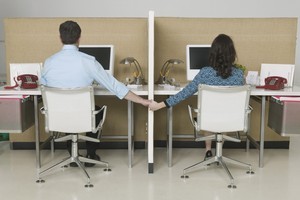 Working all the time can be boring. It might pay the bills, but it doesn't always provide the thrills. Don't get me wrong, not that my work isn't thrilling. Just not all the time.
But what about when work and play cross over? By that I mean, what to do about workplace relationships? My husband is a lawyer, but we don't work for the same firm, or even within the same areas of the law. However, many couples do. And the legal profession is not the only one which has its fair share of workplace relationships.
The reality is that many of us spend a significant amount of time at work. Depending on your work life balance, you may spend more time at work than at home - certainly in terms of waking hours.
This impacts on your ability to look outside of the workplace for a relationship (it's hard to date, if you're always at your desk) and spending hours across the boardroom table from someone, or many a late night closing an important deal, may help in making that person appear attractive.
So, are workplace relationships appropriate? What can you do about them? And can you legislate a relationship?
I got to thinking about this the other day after the following headline caught my eye: University says no to ban intimate relationships. Otago University had reviewed its policy on staff having intimate relationships with students, following the death of student Sophie Elliot, at the hands of her University tutor, Clayton Weatherston.
The University has an Ethical Behaviour Policy, which strongly discourages staff from having intimate relationships with students, but has no official sanctions against them.
I remember when the amendments to the Employment Relations Act (ERA) 2000 were passed in 2004, in particular, the amendments to the definition of good faith. People asked whether it was possible to legislate that parties to a relationship, albeit an employment relationship, deal with each other 'in good faith'.
The reciprocal obligation to act in good faith requires the parties to an employment relationship to be: active and constructive in establishing and maintaining a productive employment relationship in which the parties are, among other things, responsive and communicative.
By comparison, the Civil Union Act (which allows same sex couples to be joined in a civil union) was passed at the same time, with many people commenting then that this Act didn't go as far in its requirements as the ERA, with regard to how people act towards each other.
Whether a workplace relationship is a problem, depends on the people involved, the workplace and the industry. If the parties are in a reporting relationship, that can be difficult. If other people feel threatened, that can cause problems. Equally, public displays of affection can make others within the workplace less well disposed toward a workplace relationship.
Like most things in employment law, there is no one right answer and it depends on the particular facts and circumstances, as well as a healthy dose of common sense and respect for others.
On the upside, a happy employee is often a more productive employee!