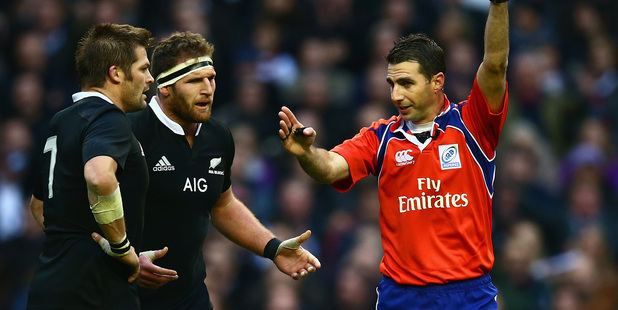 There's a hint of suspicion that self-preservation may have crept to the top of leading referees' agendas in recent weeks and it is damaging the All Blacks' ability to play their natural game.
In what was a pulsating and classic test at Twickenham, the All Blacks came away feeling they didn't get a fair deal at the breakdown. As winners, they can raise the point not as an excuse but with a genuine desire to get it fixed.
It was their view that the England players mostly went off their feet, sealed the ball off and got away with it.
As a consequence, the All Blacks chose to be highly selective about competing for the ball. Because of that, referee Craig Joubert said England's approach made no material difference as they were going to secure possession anyway. Classic chicken and egg and yet when the All Blacks decided they should do the same and seal the ball, they were penalised - because England made the decision to compete every time.
There is no dispute that Joubert's approach made for a flowing contest - but it was, nevertheless, inconsistent and baffling for the All Blacks, who now wonder whether referees are trying to fulfil an edict.
In what has been a bad year all round for referees, the pressure has come on for individuals to prove their worth: the best whistlers in the game have supposedly been warned by their respective bosses that standards need to improve.
That's no bad thing, except the boss men - the likes of IRB referee manager Joel Jutge - have specific areas and themes they want to see policed heavily through November.
That raises questions about whether the referees the All Blacks have encountered on their European tour are worried about some facets more than others.
While the breakdown was largely a free-for-all at Twickenham, the scrums - an area of massive focus for the IRB - were superbly controlled by Joubert.
"Look, I know they are under a lot of pressure, particularly around the scrum which has become a very big focus," said All Black coach Steve Hansen. "Ironically enough, I thought the scrums were the best they have been because you had two teams who had a similar mindset.
"Are they [referees] reffing to stay there? No, I don't think so. I think they are better than that. The breakdown is an issue to my mind at the momentum.
"If you chose not to go in to contest the ball, then I don't think they are taking a lot of notice as to what is happening there. You are choosing not to go in because you can't get to the ball. It's chicken and egg and talking to Craig [Joubert] about it last night he recognised that and it is something he will look at.
"He was of the opinion that if there is no contest there is no material effect so he kept the game going. It's a difficult game to ref so I don't want to be sitting here knocking them.
"They are all trying to do as good as they can do and sometimes we are asking them to create a magnificent game by not blowing the whistle and then sometimes we want them to blow the whistle."
The final test against Ireland will be refereed by Nigel Owens - who had control of the game in Johannesburg this year.
The All Blacks felt he delivered a strong and fair performance that day which was a huge contributor to the test being an epic.