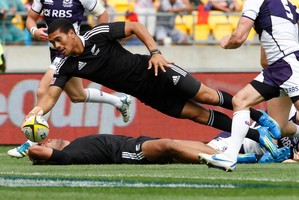 In a couple of days, the All Blacks will embark on their final campaign for the year.
If manager Darren Shand's list matches the boarding passes, 27 players will fly to Japan, and in a week another 10 will go to Paris to begin their tour.
Dovetailing the operation and fitting in late recruit Ardie Savea will have provided some logistical dramas, but the All Black management group is very experienced.
Not so all of the tourists, which is why the itinerary was changed from a three-test tour to include an extra international in Tokyo against the Brave Blossoms.
That meant extra players and a division of labour for players and coaching staff.
Once the NZRU agreed to the alteration, it would have been sound if it and the All Blacks had taken their planning a step further.
Think midweek games.
Once the squad has reunited in Paris they have two more weeks on tour. The coaches will use their training time wisely to keep them fresh for their final assignments.
But in a squad of 37, there will be a lot of players wishing they could play. Matches are always better than training, and for those newer members in the squad and those on the edge of the test XV, are a chance to put their new theories into practice.
About four or five players who have had a huge workload or are struggling with injury will return home after the England test on November 17. That still leaves a hefty group who will be picking up the sporting dole.
Had the NZRU been a touch more adventurous and expanded the concept behind the excursion to Japan, it could have found a couple of midweek sides for the All Blacks to play in England and Ireland.
If it was worried about a lack of players, it could have shipped in some from the NZ Maori squad who play two games in Canada and the States early next month.
Midweek games against the East Sidthorpe Swans or the Shannon Sluggers would have benefits for players, coaches, sponsors and the local rugby communities.
You can hear the protest now. No, no, no the players don't need any more rugby, but they will benefit from being in the All Black environment.
Mixing content with theory might have some merit, too, before they start their footy-free summer recess.