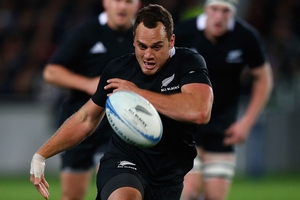 After the opening All Black test against France, coach Steve Hansen suggested Israel Dagg was missing the "magic bits" which made him such a dangerous fullback.
He was playing solidly and delivering the aerial expertise which made him such a valuable member of the side's back three division. However, the coach acknowledged Dagg had not clicked up another gear.
There could be many reasons. Opponents may have limited his chances, play might not have run his way or team tactics reduced his chances.
Dagg is an outstanding rugby talent who is in his fourth season with the All Blacks and has competed in 33 tests. He is more naturally gifted than Mils Muliaina, has more flair than Leon MacDonald and a better all round game than Christian Cullen.
But his performance and class have not yet been as broad as Muliaina or Cullen. There are too many frayed edges which could be a sign that Dagg is trying too hard to make things happen.
Kicks out on the full, carrying instead of drawing a defender and passing - they look like poor choices or an anxiety about trying to make things happen.
Dagg always carries that intent. Standard catch, pass, kick routines are not rugby nectar for Israel Jamahl Akuhata Dagg, he needs more spice to fuel his rugby appetite.
Rugby is evolving with top teams reluctant to experiment and attack from inside their own half in case they concede turnovers or penalties. Dagg will be playing to instructions and the boundaries for him to "have a go" seem to have shrunk.
He may also be trying a shade too hard because Ben Smith and Charles Piutau are hovering as other fullback candidates.
Smith prefers to play fullback but has been in wonderful touch on the right wing where he has filled in for the injured Cory Jane, while Piutau is an exciting bundle of talent.
When the All Blacks go to Europe next month with a fit again Jane restored to their ranks, does Smith go to his favoured fullback role or will he be groomed at centre? He has to start somewhere.
Piutau might wear the No 13 jersey in line with some of the Blues thinking for next season so Smith would have to go to fullback.
Those concepts will be fermenting in the All Black discussion groups.
After eight tests this season Dagg may not have risen much on Hansen's graph, there will still be a gap between performance and expectation, although the coach's faith in his fullback will remain.
Perhaps the shift from FNB Stadium in Soweto across the sprawling metropolis of Johannesburg to Ellis Park tomorrow, will provide a change of gear for Dagg as well.
Three years ago as a late substitute he ran in a late try at Soweto which gave the All Blacks victory against their greatest rivals.
Dagg looked uncluttered then and was "seeing" the field. Some of that vision looks to have closed in but Ellis Park beckons as the type of challenge which fits Dagg's wheelhouse.
Defusing bombs from Morne Steyn, Fourie du Preez and Zane Kirchner will be standard, finding the icing will be lighting Dagg's wick tomorrow.