At the start of the professional era in 1996, when it was guaranteed we'd start playing South Africa at least twice a year, some people said such regular contests would diminish the excitement.
Seventeen years on, I don't think anything about the rivalry has changed. Even our office at Sky Sports in England was buzzing at the prospect of the two best teams in the world going head-to-head. Up here I'm surrounded by neutrals and everyone was saying these two teams are the benchmark of where others in world rugby want to be.

There's also huge All Blacks respect for the Springboks because they're similar to us. They never go away, they try to bash your door down for 80 minutes and beyond. That's a good thing. I want to see the All Blacks challenged.
In Britain, the third test between the Lions and Australia has been seen as the biggest match in the last couple of years but the circumstances surrounding last night's test make a case to compete.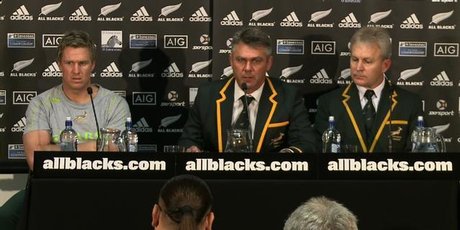 Part of the Springbok resurgence since the World Cup can be put down to coach Heyneke Meyer.
Initially he played a traditional game having come from the Bulls, but that has changed thanks mainly to Morne Steyn. He's underrated as a first-five and as part of his development he has added good passing and running games to his kicking. He's not sitting in the pocket as much these days and attacks the gain line more thanks to a go-forward pack. It helps that this next generation of Springbok forwards, the likes of Francois Louw, Flip van der Merwe, Eben Etzebeth and Willem Alberts, are massive, mobile men.
Having said that, the All Blacks have a great environment, too. You can see that with the development of players like Julian Savea, Ben Smith and Aaron Smith over the past couple of seasons. Kieran Read is another I'd pinpoint as he stands in as captain for Richie McCaw. Three years ago he was a good Super 15 player still working on his test game. Since the 2010 Tri-Nations he has developed into an outstanding All Black.
I was playing golf with Zinzan Brooke last week and we talked about how much we loved that eight-nine move Read worked with Aaron Smith to score a try down the blindside against Argentina. He deserves the leadership in McCaw's absence. He'd probably be the next best captain in the world at present. That's one of the hallmarks of the current team - their senior leadership group.
I love the way Read plays; he almost always delivers. You can see that in how he's adapted with Steven Luatua coming into the side. Read has played a tighter, more physical role which has given Luatua a licence to roam. It's no surprise Luatua's introduction has been deemed a success with McCaw and Read around him. I had the pleasure of playing in some great teams and it tended to be the case that if you weren't playing well in that company, something is wrong.
In terms of hooker, I'm a little concerned at the lack of depth. Coles needs to take his opportunity. He's been in the environment long enough to know what is needed. He needs to focus on the scrum, the lineout and ball-carrying.
So what are the alternatives for the end-of-year tour? James Parsons looks useful and has good leadership qualities. Quentin MacDonald is another with promise. I've always liked Corey Flynn but he's suffered so much through injury. Liam Coltman is another with some skills who has been brought into the wider training group. He's got size and bulk and has the advantage of being able to play prop as well.