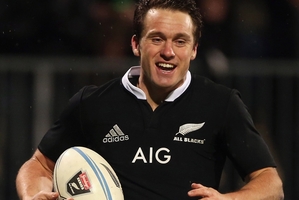 All Black coach Steve Hansen either has massive faith in Ben Smith, a different person in mind or no idea who will replace Conrad Smith at centre later this year.
It's best to work up the former theory. Hansen isn't prone to random or sudden changes in philosophy and he's never without a plan. Knowing what he wants, staying true to his ideals and being consistent have been the bedrock features of his head coaching tenure so far.
He's never been definitive about what he plans to do when Conrad Smith is on sabbatical in November and, two-thirds of the way through the Rugby Championship, there has not been any further clues as to what might happen.
Best guess is still a shift for Ben Smith. The 27-year-old was identified 14 months ago as the player with the closest skill-set to the incumbent and there were strong hints he was seen as the natural successor.
Ben Smith is much like Conrad in that timing, footwork and instincts are his preferred modes of operation. The younger Smith has also got pace, agility, a kicking and catching game and good vision, which is why he's capable of playing almost anywhere across the backline and hasn't yet specialised in any particular role.
And it's Smith's lack of familiarity with the No 13 jersey at any level that reveals just how much faith Hansen has in him. Centre is a complex berth, the sort of place where little mistakes have a nasty habit of being high impact.
Last year, Smith came off the bench to play at centre twice and then started there against Scotland. Nothing since then, though, and in all likelihood, probably nothing before the third Bledisloe test.
Potentially this is high risk but no one seems worried. The All Blacks are confident that if he has to, Smith can make the transition and much of that belief stems from the two-step plan they have had in place.
The first goal has been to build Smith's level of comfort and confidence about being an All Black. First capped in 2009, he wasn't seen again in black until 2011 when he made one more appearance before the World Cup. He was a squad regular last year, often on the bench but not considered frontline.
The challenge has been to open his mind to the extent of his talent: All Black sides have had spectacular outside backs for the past two decades and Smith needs to understand that he is, or at least could be, in the same league.
That process, it has been deemed, will be best served by affording Smith consistency of selection in one position. That's why the selectors didn't shift him to centre for the dead rubber against France in June. It has been a success. Smith has become the new Cory Jane: unassuming and seemingly unimposing, yet so deadly.
He thrives on the big stage without having an obvious trump card. Smith is neither overly powerful nor overly quick but he scores tries, beats defenders, catches high balls, launches counter-attacks and has finished most games this year as a contender for man of the match.
He must surely have some idea by now that he's more than capable of making an impression at this level, which means he's on track for stage two if the selectors still want to go down that road.
That's converting him to centre for the final tests of the year - not with a view to it becoming a permanent move but to give player and coaches peace of mind that they have a viable alternative to Conrad Smith.
The hope is that with his confidence buoyed and self-belief high, Smith will handle the demands of the role even if he's thrown in there with limited previous exposure.
"Steve has brought it up a couple of times," says Conrad Smith as to whether any discussion has taken place internally about who will replace him when he takes his time out. "It is something maybe (we will talk more about) in the next few weeks.
"I do (think Ben Smith has all the skills). I also think it will be a big change. It is not as easy as some people think.
"The attacking opportunities are quite different and you have to wait for what is created inside you, whereas wing, you don't so much, especially from counter-attack, which is what he is so good at.
"He's still pretty new to the wing, which is why they are giving him time there to sort that out. It will be a big shift but I am more than happy and keen to help him make that."