With other countries closing the gap on New Zealand, the All Blacks still retain an advantage with Richie McCaw as skipper.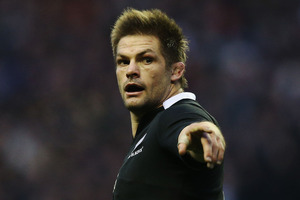 With Super Rugby and the Six Nations throwing up unusual results, it has become even more apparent that coaching and captaincy make a critical difference.
A few years ago, some nations held an obvious advantage, as they had individuals with higher skill levels, were better conditioned and technically superior in the execution of the basic arts of set piece, clean-out and defence.
Not now. The global nature of rugby has seen what were once considered trade secrets freely traded across international borders.
If the Southern Hemisphere was the market leader in executing the fundamentals at the dawn of the professional age, that position is no longer assured, with so much intellectual capital having been exported to Europe and elsewhere.
There has been a constant procession of New Zealand, South African and Australian players, coaches, fitness trainers and executives popping up in critical roles across Europe in the past decade.
They have migrated to clubs and international set-ups, passing on vital knowledge and innovative ideas, enabling Northern Hemisphere sides to close the basic skills gap.
England, once big and not much more, have added a dexterous element to their game; the forwards look better with ball in hand, as do most of the backs and they are on the verge of securing a Grand Slam that will herald them as a serious international force again.
Wales, always skilled, finally look fit and even Scotland, a shambolic outfit for too long, have better equipped players, which is why they are handing back the wooden spoon this year.
As the All Blacks discovered at Twickenham, there are no easy avenues to exploit any more. The top 10 nations in the world are largely comparable in basic fitness, strength, speed and skill. There are still a handful of athletes who have the ability to deliver game-breaking magic - Julian Savea, Will Genia, Bryan Habana, Manu Tuilagi, Brian O'Driscoll and George North - but, by and large, the outcome of big games is now determined by the tactical imagination of the coaching team and, perhaps more significantly, by the ability of the team's leadership group to implement it.
Decision-making has more impact now than it ever did. More often than not, big games are decided by choices made under pressure in critical plays. The ability of a team to read the opposition, to adapt within the parameters of their game plan, are the biggest tests. The captain's ability to read the referee and build a rapport with him now have an undue influence.
This is where the game has got to - call it the second generation of professionalism: preparation, planning and the influence of the captain to set the right tone, to keep things together on the pitch so teams gain the ascendancy.
It's no wonder, then, that the All Blacks are super-protective of Richie McCaw. He stands alone in world rugby - by some distance the best captain in the business and his value, despite his sabbatical, has soared in recent months.
The difficulties being experienced by others have served to highlight that, in this brave new world, McCaw is invaluable.
For years, the All Blacks had the advantage of explosive power and instinctive rugby brains - now they have the courage, composure, mental strength and vast experience of their captain to see them through the tightest scrapes.
What other leading nations wouldn't give to have a similar influence. The difficulty the Lions face in finding a captain epitomises the lack of charismatic leaders in the world game. England have a relative newcomer in Chris Robshaw, Scotland's Kelly Brown probably isn't Lions material and Ireland, for some inexplicable reason, switched the captaincy from O'Driscoll to Jamie Heaslip. The big Irish No8 has lost his form as a consequence, as have Ireland, who lost to Scotland and England and conspired to hand France a draw last week.
Wales, who soared under the captaincy of Sam Warburton, have been patchy since they reverted to selecting Ryan Jones as skipper. And France, who had one of the best in Thierry Dusautoir, have been awful since they made the decision to make Pascal Pape their permanent choice. Australia may improve this year if James Horwill recovers and resumes the captaincy, while Jean de Villiers was growing into the role last year, having had it unexpectedly thrust upon him.
The All Blacks, at least, have certainty; if McCaw is fit, he is the captain. No discussion, no experimenting, no wondering about other blokes and, while McCaw hasn't played for four months, he provided a timely reminder of what he's all about when he spoke at a promotional event last week.
"I guess the attributes of a great leader is that they first of all lead with their actions," was his answer to the question of how he approaches the captaincy.
"A great leader has got the ability to inspire those around them and I think, when I first became captain, the first thing I thought was that you have to be the best player you can be, you have to earn your spot, be an automatic selection.
"That's the first part of the job you have got to get right and it is about 80 per cent of the job. The other 20 per cent is that you have to help others and make sure the team is going well.
"When I was first captain, I was more worried about helping others than I was about being a player and it took me a while to get the balance right. So now I write down every week, get my job right and that will take care of what my job is as captain.
"What really intrigues me about pressure is there is little between top athletes in sport. Often it is where you look, look down, you look out, but look in control; it looks like to your own team-mates you look calm. In the Rugby World Cup final, I felt under pressure - but I knew my team expected me to look in control."