Hansen's first European trip as coach a chance to lay future groundwork.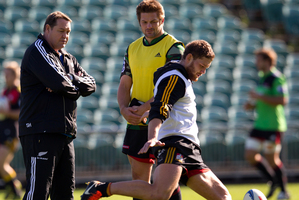 Even for someone with such an extensive international coaching career as Steve Hansen, there is always something fresh to trigger his rugby fascination.
He's heading towards 150 tests as a head coach or assistant but this trip to Europe will be the first time he has led the All Blacks against his former Welsh side.
Hansen first dipped his toes into the international waters in 2002 as a sidekick to Graham Henry with Wales and not long after was in the big chair when the coach quit.
It was a rugged introduction with Wales scraping out just 10 wins in 29 tests under his command.
In contrast, Hansen returns to the valleys later this month with an All Black group which has dipped to a solitary draw under his first season in command.
Those performances have added layers of knowledge to the Hansen rugby library.
Images of Hansen a decade ago, show him as a fresh-faced man, a fleshier John Smit look-alike with that cowlick hair framing his clock.
There might be a few more worry lines on that countenance now but those should be expected after a decade of test rugby and the tough last test week he had in Brisbane.
His father's death and the team's moderate output were not conducive to a worry-free demeanour .
But Hansen's ability to let things go will be an important part of his work to reignite the All Backs for their late season burst in Europe.
He will begin that process by jumbling up his 32-strong squad for the opening tests against Scotland and Italy.
New combinations will be used, skipper Richie McCaw will get a rest from one test, everyone in the group will get some playing minutes before the stronger combinations are chosen for Wales and England.
Hansen is unlikely to ever admit it publicly, but he should allow his receptive rugby brain to imagine a certain event in the UK in three years' time.
Barring some monumental drama, Hansen will have piled on nearly 50 tests experience as the All Blacks head coach when he takes his side to the eighth World Cup.
Homework, research, planning and reconnaissance have become bywords for the All Blacks and this trip will allow Hansen to think and ponder about 2015. Game-plans, conditions, experience, hotels, personnel, training, selection, attrition - they will all go into the churn and the dossiers being compiled for that tournament.
When Hansen and his fellow selectors and coaching crew sit down for their thrash talks, they should imagine they are coaching against the All Blacks.
They need to sense why and where they are being attacked, whether they are vulnerable in certain areas or still have the right mix in their plans.
Hansen will ponder the international future for men like Ali Williams and Piri Weepu who have spluttered through this season.
He will monitor the snap about Conrad Smith's game, the centre par excellence in recent years, a gift to the team's planning, structure and organisation.
Will that sporting computer still have the same hard drive sting in a few years or does it need an upgrade?
Can some of the senior frontrowers sustain their impact for the high-tempo style which the All Blacks are pushing?
The response the All Blacks provoke from foes like Wales and England will be intriguing.
Wales under Warren Gatland have opted for some time on more enterprise and understand the layers of difficulty in finding men with enough skill, comprehension and fitness to cope.
Murmurs rumble out of England about a change too but that smells more of an acquiescent or wishful fourth estate rather than any reality.
We shall see.
Those topics are likely to hold as much fascination as the results and style flow on this tour for Hansen and his All Blacks as they seek to roll undefeated, through another northern crusade.
Itinerary
All Blacks
Nov 12 v Scotland, Edinburgh
Nov 18 v Italy, Rome
Nov 25 v Wales, Cardiff
Dec 2 v England, Twickenham
NZ Maori itinerary
Nov 13 v Leicester Tigers, Welford Rd Stadium
Nov 17 v Championship Selection XV, Castle Park, Doncaster
Nov 23 v Canada, Oxford University.