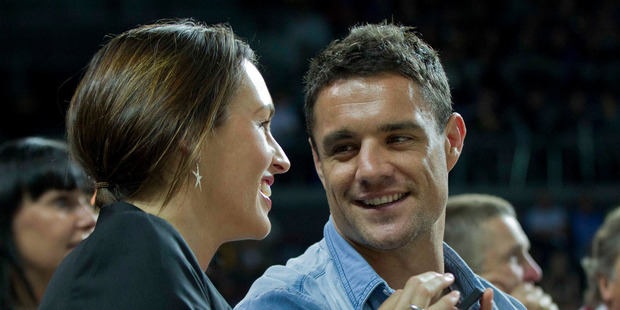 All Black Dan Carter and his wife Honor Carter have taken exception to having their picture taken by "paparazzi'' at breakfast, sharing their thoughts on Twitter.
"Off to breakfast and papparazzi following us... EEA5.. Number plate ... Time to play some games!,'' Honor tweeted this morning.
Dan then echoed his wife's thoughts, and posted on the social networking site:"How can I enjoy my last day with my wife when we are being followed by paparazzi to breakfast #annoying''
In response to replies to Honor's tweet about their grievance about the photographer, she said the "paparazzi'' didn't ruin their meal and said it was a "great brekky''.
And when someone said they were surprised that there was paparazzi in New Zealand, Honor said they're "getting worse'' and in response to a question whether they got followed often, she said:"Haven't for a while, they are really obvious when they do though!''
The Carters are prolific tweeters and Dan regularly holds Twitter press conferences when he answers fans' questions about everything from his favourite food to what weapon he would use in a zombie war.
The couple is also in the public eye - they sold the exclusive rights to the photographs from their wedding to ACP Media, the publishers of the Australian Women's Weekly, which arranged for planes to fly overhead during the service to prevent the press getting a sneak peak.
In 2002, Mike Hosking unsuccessfully sued New Idea magazine to stop publication of his twin daughters who were 2 at the time after a took their picture in Newmarket.
The Court of Appeal unanimously agreed the pictures were taken in a public place and the couple's kidnapping fears were "overstated''.
But in a split decision they ruled that media organisations can be sued if they breach an average person's "reasonable expectation'' of privacy.
Publishers and broadcasters can be sued if they breach what the court defined as a "reasonable expectation'' of privacy, and the publicity is deemed highly offensive to an "objective, reasonable'' person.
-NZ Herald